Last Updated on September 8, 2021 by YourBestCoffeeMachine
Good hand coffee grinders can make all the difference between a cup of mucky sludge and a rich, aromatic morning cup of your chosen perfect brew. And what better way to add sweetness to your everyday morning concoction than having a hand grinder that delivers the same quality as electric grinding machines do at a fraction of the usual overall cost.
But choosing the perfect hand grinder may be tricky, especially for those groping around in the dark with matters of coffee-machine related wisdom. Read on to know more about the top coffee hand grinders to help you choose the best machine that suits you and your coffee drinking needs.
1.

JavaPresse Manual Coffee Grinder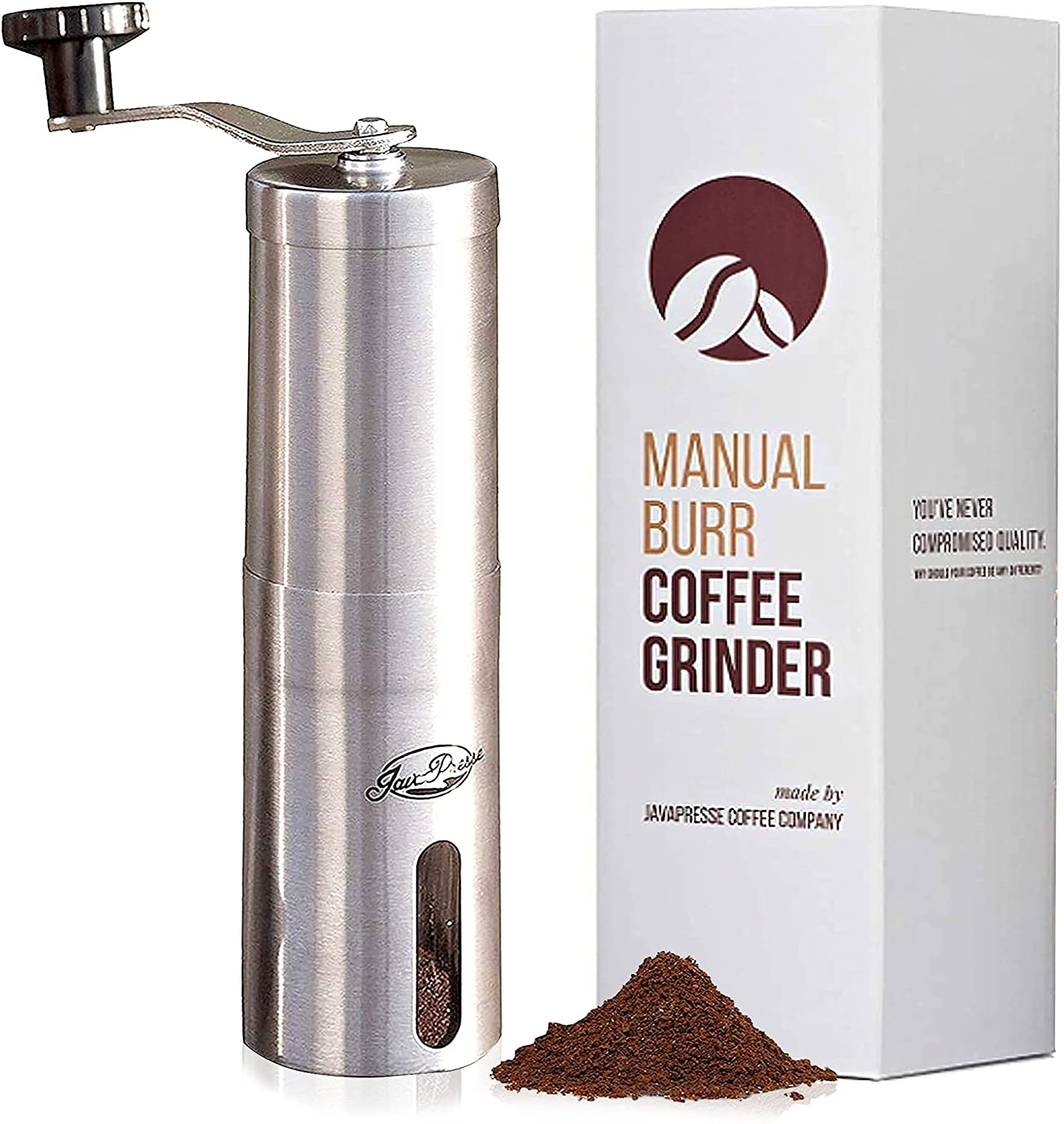 The United States market has been dominated recently by the JavaPresse Manual Coffee Grinder. In the United Kingdom, the current best seller is a similar looking version by Henry Charles. Reviews of these models are coming shortly so check back soon! If you can't wait for our review and want to check them out directly on Amazon, click the link below.
2. Kyocera Ceramic Hand Grinder
This is a full-bodied, easy to operate and remarkably durable ceramic type mill that can be availed at a viable price. It has a sleek and modern look and can be found to fit well with most contemporary kitchen designs today and is also compact enough to be piled away easily when not in use.
The maker can be cleaned very easily, and with the right tender loving care would still look and work as perfectly as it does the first time you got it. The Kyocera's build trims down any possible future problems with rust, and it is a multi-purpose grinder that you can also use for grinding salt, pepper, green tea , sesame seeds, etc. It can grind from fine to coarse and can store up to 100 grams.
3. Hario Ceramic Skerton – Hand Coffee Grinder
This is cheating because the Hario and the Kyocera are just the same product with different labels. The Skerton is lightweight, petite, and handy, but happily holds a larger capacity than the Mini Mill. It is a ceramic type mill that is both easy to use and clean. It also sports a glass grinds container, and performing best at medium drip grinds, has a similar ideal grind range.
With the Skerton, espresso may be achievable but a bit tricky to dial in due to the large adjustment steps.
4. Hario Slim, Mini Hand Coffee Grinder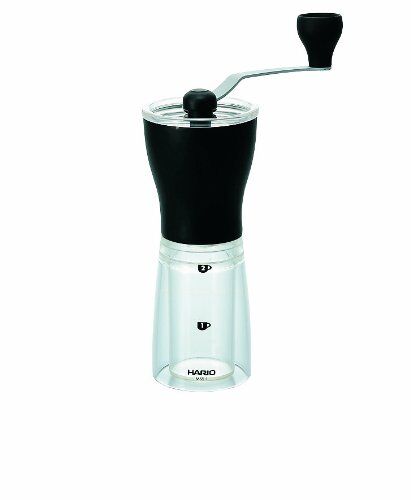 The Hario is a compact hand burr grinder that is ideal for a drip or Aero press grind, not to mention budget-friendly. Its petite capacity makes it portable enough to be perfect for travel. The ceramic burrs are easy to clean, durable, and it sports an attractive slim design that helps in saving storage space (the combination of its slimness and the detachable handle means that it hardly takes up space at all).
But of course, because of its compact dimensions, it also means that it holds just enough grinds to serve two people – though for many people's needs this is just suitable.
The Hario is easy to clean and use and sports a ceramic mortar that eliminates rusting or giving the grinds an odour.
5. Kuissential Manual Ceramic, Hand-crank
The flavour of coffee is enormously reliant on the consistency of the coffee grind, and using a manual burr coffee grinder is definitely the best way to pull off a uniform and consistent grind not to mention the desired flavour from your beans. The Kuissential Manual Ceramic Burr Coffee Grinder can be adjusted easily for you to achieve the desired grind size for your method of brewing: from fine espresso to coarse French press. Designed with a Ceramic Burr, it will last longer than steel. Aside from that, it is rust-proof, works with less noise and does not absorb much heat. There's more: the ceramic material guarantees you with rich and unaltered flavour and taste.
The grinder's bottom part also serves as a storage container for leftover grind, while the non-slip base steadies the machine in place while you are in the process of grinding, while a lid for the bean hopper to keep beans from jumping out or spilling.
6. New Hario 'Canister' C
Imported from Japan, don't be fooled into thinking that this old-fashioned manual coffee grinder as a mere 'decoration' instead of a machine that can really actually grind your coffee to perfection. Sporting a glass canister and ceramic and metal grinder, it has a rubber cover at the bottom to fix the grinder in place while you grind.
The Hario Canister C can hold 120 grams and the grind settings are adjustable and offer you more control, resulting to grounds that are consistent in size; the rotating action is agreeably resistant, and the grinder itself is sturdy and well-made.
7. Porlex JP-30 Stainless Steel Coffee Grinder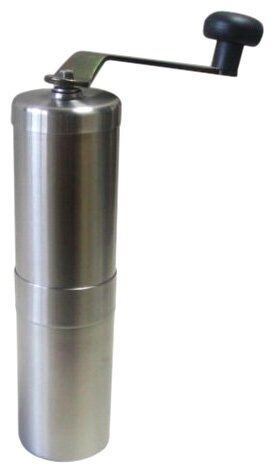 The ceramic type Porlex made in Osaka, Japan exhibits itself as a beautiful piece of design and features a virtually indestructible, static-free, stainless steel body. The grinder also has a handle that can be removed to help save on storage space and a 120 heat-resistant temperature.
The grinder is very easy to clean and maintain, has a 30 gram capacity, and the ceramic, conical burrs are superb when it's about producing even grounds, from fine powder to coarse sizes perfect for French Press.
8. The Peugeot 11765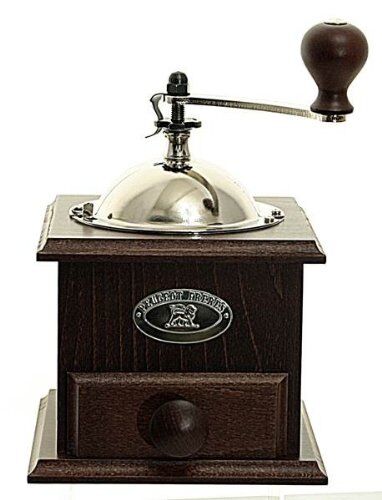 Having a reputation around the world for manufacturing mills that are reliable, resilient, and one that give a consistent grind, Peugeot gives us the PM11765, a strikingly superior and traditional grinder that is made from walnut. It has a manual burr-type mill that grinds the beans quickly and efficiently.
The PM11765 is equipped with seven different mechanisms – as well as one for coffee, there are mechanisms for chilies, wet salts, dry salts, nutmeg, peppercorns, herbs and spices. This superior grinder will give you the utmost coffee flavour and aroma – and of course would as well provide a decorative talking point for your kitchen.
9. Zassenhaus Coffee Grinder – 156BU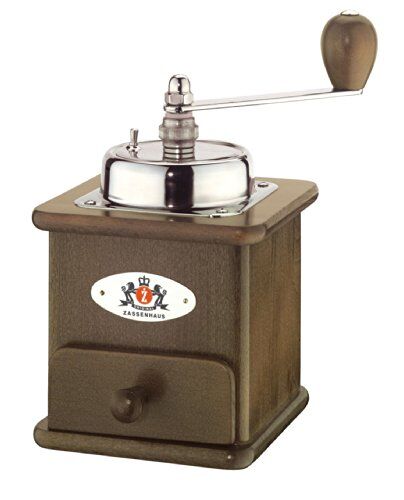 The Zassenhaus grinder sports some beautiful op quality finished hardwood and chrome top plate, and while this is probably the coffee grinder of highest quality that can make superb grind for your espresso, it will be the most costly one so far.
Grind selection of the Zassenhaus is from coarse French Press grind to the espresso grind, and also features hardened grinding mechanism to reduce the "wobbly" effect during grinding which is usually experienced in other coffee grinding machines. One downside is that this high end coffee grinder isn't cheap at all.
10. Zassenhaus hand coffee grinders
This Zassenhaus hand grinder is Bauhaus-inspired with rare wenge wood housing and features as glass container with capacity of 4.2 ounces (125 ml) and can be adjusted for coarse to powder fine grinds.
This model is no longer available but Zassenhaus has wooden coffee grinders currently available including this uniquely styled model which is a blend of woods. They also have a version made of olive wood – a lighter wood and more consistent colour throughout.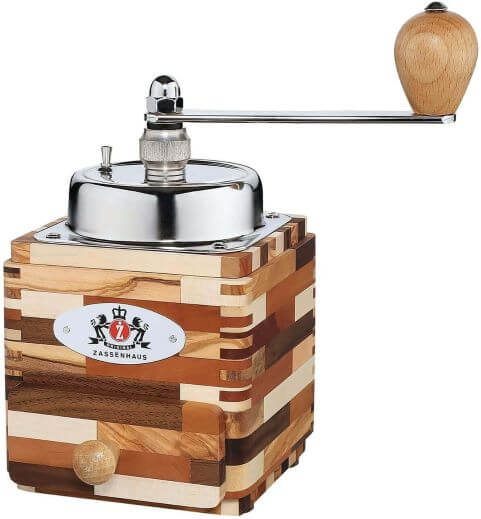 We'll be going through all of these grinders again to provide a table ranking them from favorite to least favorite so be sure to visit again soon. We're also adding some information on what to look for when choosing hand coffee grinders so that you can be really informed before making your choice.