Last Updated on June 23, 2021 by YourBestCoffeeMachine
Keurig Green Mountain is a well-known manufacturer of coffee makers and considered to be one of the best brands worldwide. Along with coffee makers, the company's success led them to give birth to more brands, specifically beverage brands, such as Green Mountain Coffee, Coffee People, Barista Prima Coffeehouse, etc. Their company aims to revolutionize the beverage experience starting off with what most people cannot live without─coffee. Their coffee machines are known for their sleek designs, innovative technology and convenience, making Keurig a great choice for all coffee drinkers in the world today. Here we have listed the top 5 best Keurig coffee makers.
---
Keurig K140 Coffee Machine
Perfect for the home and small offices, this particular coffee machine can produce over 100 cups of good coffee and teas. It is known to be very durable and incredibly easy to use as it comes with awesome features such as a warning light that blinks when it needs more water. Through this, you can guarantee that your coffee is perfectly blended with just the right amount of coffee and water. You also get to have a choice of three cups that vary in sizes.
Another great feature is that it has an energy savings mode, which means that it automatically turns off when not in use. You can select this option, but it is also configured to stay on the whole time.
On the other hand, if you wish to use a larger mug because 300ml isn't enough, you can! Thanks to its removable drip tray that allows for larger mugs.
<< Check the price of this model on Amazon.com >>
---
Keurig K150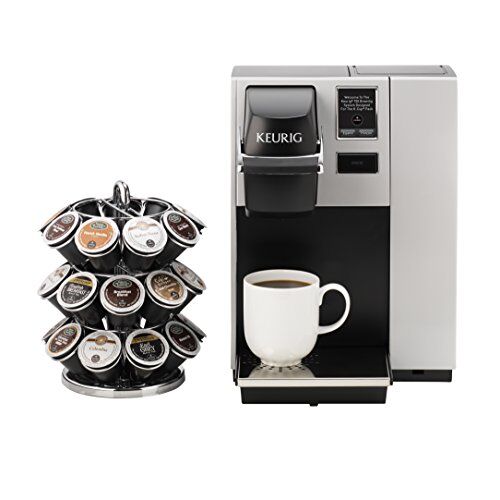 If you want to step it up a little, this specific Keurig coffee machine is considered to be one of the best. It's more hi-tech compared to the K140 as it comes with an LCD coloured touch screen that comes in multiple languages. To add to that, you can adjust its brew temperature from 86°C to 92°C. In comparison with the K140, this can accommodate 5 cup sizes, which makes it a great choice for medium to large workplaces.
If 360ml isn't enough for you and you want a bigger fill of coffee, it can accommodate bigger mugs through its removable drip tray. Another great feature is that this coffee maker is configured to stay on at all times, but you can easily set it to auto-off after 14 hours. You can also customize it using Keurig accessions, such as condiment drawers and pod shelves, however, these are sold separately.
<< Check the price of this model on Amazon.com >>
---
Keurig K145 OfficePro
A simple, yet incredibly versatile Keurig coffee maker, this particular model caters to 3 cup sizes.
It boasts of versatility as it can accommodate traditional K-cups, which means that you can to try different flavours. And, you get all that just from one single and simple coffee machine. You also don't have to worry about maintenance because it comes with a drip tray that is easily removable, allowing you to easily clean spills. If you're on-the-go, don't worry, because it will only take less than a minute to brew that perfect cup of coffee.
And, the waiting time can be even less, due to the inbuilt water reserve tank that reduces waiting time for a fresh brew.
However, this is not built for ground coffee, so if you are a fan, then you probably want to skip this one. Another minor flaw of this coffee machine is that it's a bit noisy because the design is actually meant for the office itself.
<< Check the price of this model on Amazon.com >>
---
Keurig K55 Coffee Maker
If you are looking for an easy to use Keurig coffee maker, then this is the best Keurig coffee maker for you. This is also one of their most affordable models, so if you are saving money, but still want to make your coffee maker dreams come true, then this is definitely something you shouldconsider.
For ground coffee lovers, you will be happy to know that this machine can accommodate fresh coffee grounds unlike other Keurig coffee maker models. The K55 allows the use of a reusable filter, which in turn, allows you to use coffee grounds. On the other hand, if you simply like coffee, you will be happy to know that this coffee machine also allows you to use K-cups. K-cups come in various flavours, offering more versatility from a simple, yet efficient, coffee machine.
However, the K55 doesn't have a descaling feature. Therefore, you are going to need to exert more effort in cleaning it.
<< Check the price of this model on Amazon.com >>
---
Keurig K250 2.0 Series Coffee Maker
This Keurig coffee maker is very easy to setup and is more compact. It comes with a touchscreen panel allowing you to control your coffee strength and size. It allows users to brew multiple sizes using K-Mug and K-Carafes from 4oz to 30 oz. The strength option helps you control the strength of your coffee from light, medium to strong. This particular Keurig coffee machine also allows you to choose from multiple flavors. Rest assured, you have hundreds of options available. One minor setback is that this doesn't allow you to use K-cups or the older cups. Users are required to use pods specifically for K250 2.0 series manufactured after January 2014.
Comparing it with other 2.0 models, you will find that the Keurig K250 is the cheaper option.
<< Check the price of this model on Amazon.com >>
---
Conclusion
Finding the best Keurig coffee maker may be a bit overwhelming with so many options available for you. To make the search easier, you have to assess your needs first. Think about where you are going to use it and how do you want your coffee maker to perform for you. You also have to consider your budget. Once you have narrowed everything down, then you can start choosing from these Keurig coffee makers and start brewing quality coffee that will make your days better.