Last Updated on September 3, 2021 by YourBestCoffeeMachine
For the past years, technology has improved immensely. We have gone from manual labour to automatic and all the high tech innovations really made our lives easier and better. One of the greatest inventions that man ever invented is the coffee maker. Then, we used to painstakingly boil and brew coffee but now, we can drink coffee instantaneously in just a simple touch of a button.
But then, what about the taste? Is there a difference between the coffee that is made manually and the one from the automatic coffee maker? There is of course!
The First Automatic Manual Espresso Machine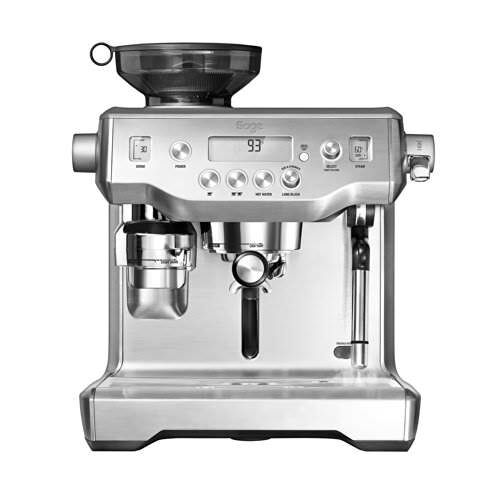 With the Sage Oracle Espresso Coffee Machine you don't have to worry about that. This machine gives you the best of both worlds. The coffee it makes has the rich and full taste that you can get from the manual way of making coffee. At the same time, this automatic coffee machine offers convenience and ease because it is the world's first automatic manual coffee maker.
This coffee maker already made the hard processes of manually making an espresso automatic like grinding, dosing and tamping ground coffee beans as well as texturing milk in a matter of minutes or less. As this was designed by the famous celebrity chef, Heston Blumenthal, it is safe to say that it is guaranteed to work superbly at your convenience.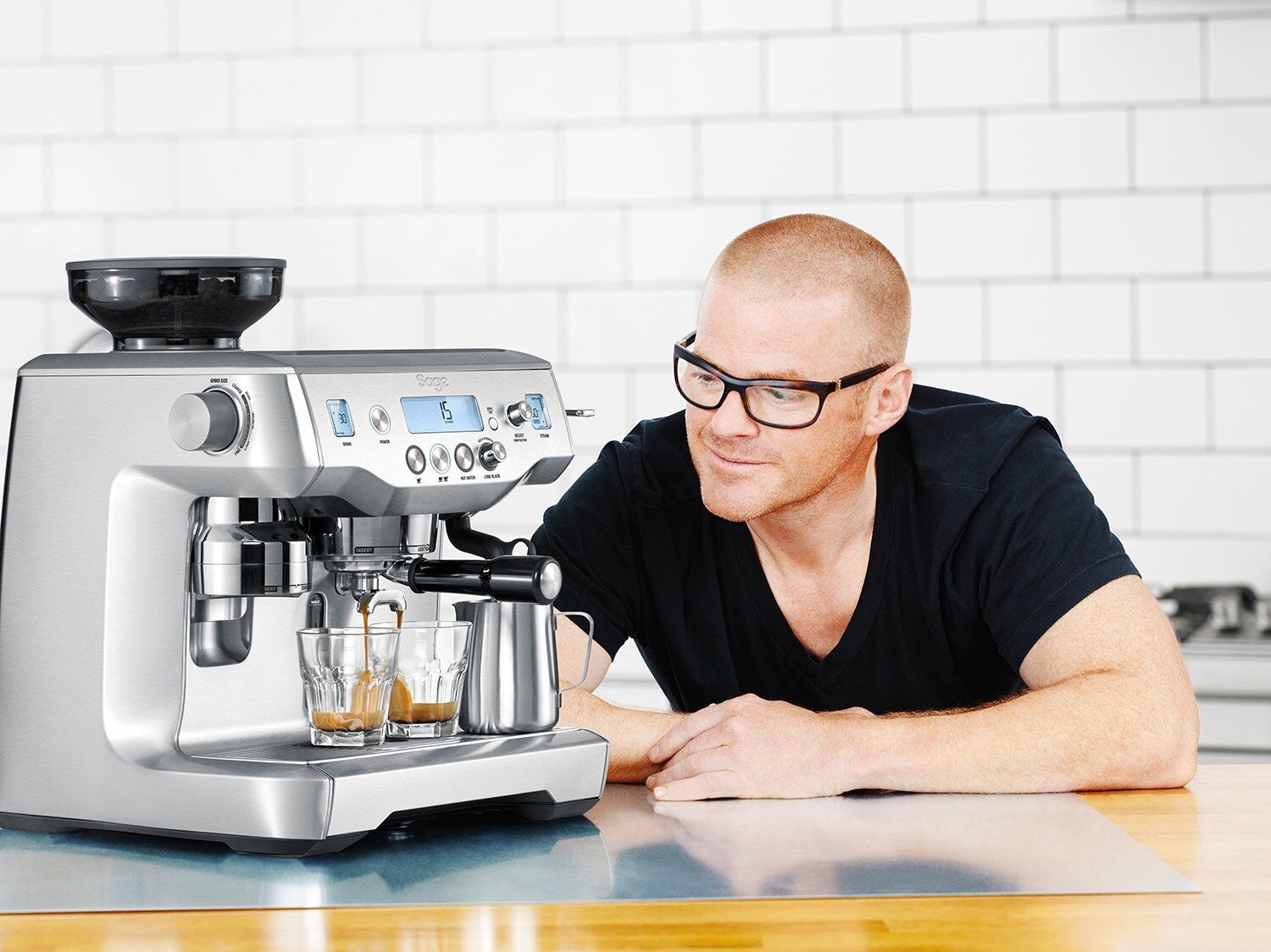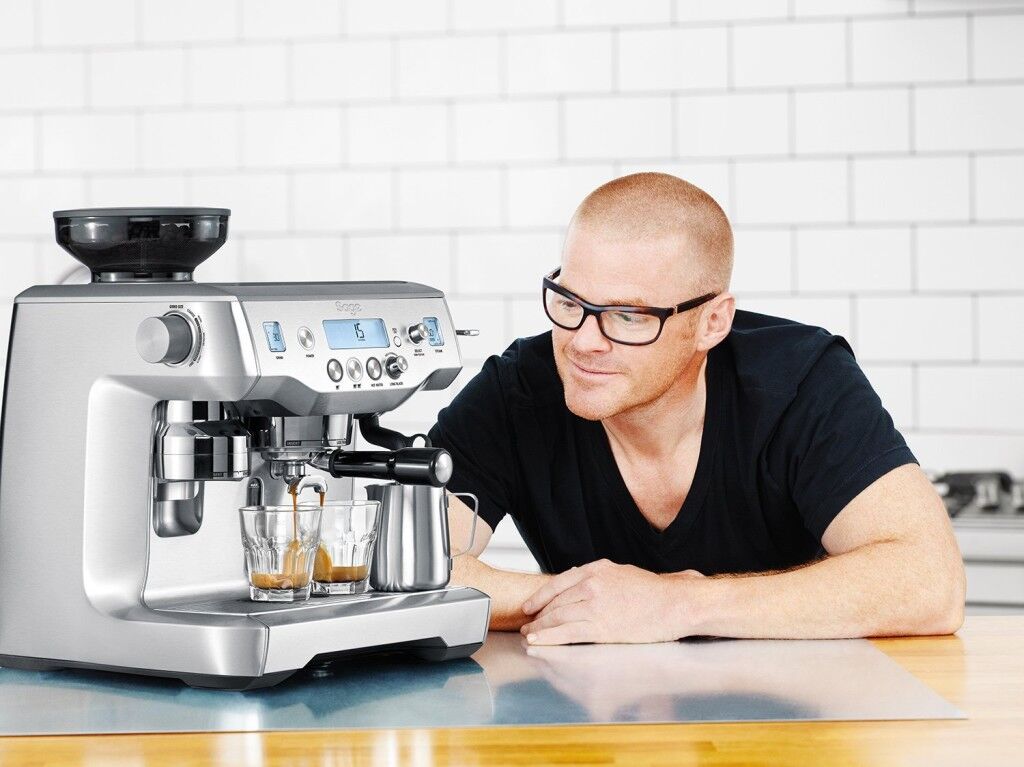 Innovative Features
It has a lot of innovative features, starting from the large capacity water tank that can be filled up to 2 litres, making it a definite bonus especially if you are making coffee for a big family or huge group. What makes its tank more amazing is the fact that it has a built in water filtration system that ensures the pureness of the water that you are using for your drink.
Not only that! It also has a removable reservoir for easy cleaning and refilling in case you really need to do so. This coffee maker also features a 250-gram bean hopper which can hold enough beans for approximately 25 espresso shots.
You also don't have to shell out additional cash in order to purchase a separate grinder because it already has a built in heavy duty stainless steel conical burr grinder which you can also set into 18 different settings, from coarse to fine, to suit the kind of coffee beans that you want to use. If you don't want to undertake the task of grinding your beans, this coffee maker also gives you the option to use pre-ground coffee. This coffee maker gives you no hassle at all.
Dual Boiler and Triple Heat System
It also has a dedicated dual stainless steel espresso boiler with an amazing triple heat system. In addition, this coffee maker's espresso boiler also has PID technology in order to extract the espresso shot to within plus or minus 1 degree C of the chosen temperature.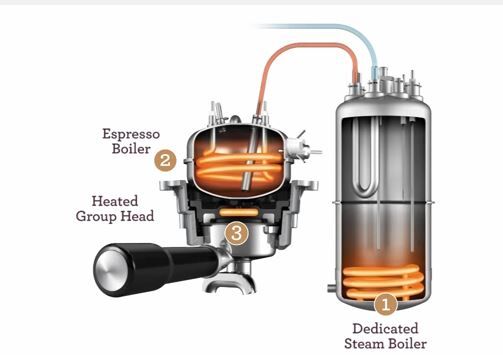 As if that is not amazing already, this coffee maker also readies the espresso and the milk all at once since it allows the simultaneous extraction of the espresso and texturing the milk, achieving the fragile aroma of a perfect espresso.
Like its sister coffee makers, all from Sage, the Oracle Espresso Coffee Machine also has a feature called the Over Pressure Valve which is a commercial feature that limits the maximum pressure throughout the extraction process, preventing the bitter tastes from forming in the mixture. It also has a therma-coil heating system with a temperature control that you can easily and readily adjust.
Fancy a Latte, Cappuccino or Americano?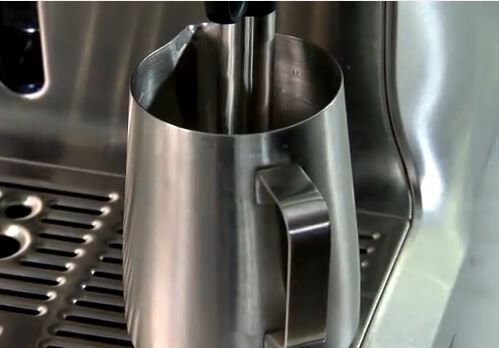 Making lattes and cappuccinos is also possible with this coffee maker because of the high power milk frothing arm which provides a creamy and delicious kick to your hot beverages. It also comes with a couple of peripherals such as the single and double filter baskets, the 480 ml stainless steel frothing jug and a cleaning kit.
If you want to make long black coffees or Americano, this coffee maker allows you to do so by being able to provide hot water instantaneously. The unit is also designed to be easily cleaned making it a great companion for the busy individuals with just a little bit of time to spare for cleaning their appliances.
The Major Downsides
Now, let us look into the major downsides of purchasing this coffee maker since every machine out there in the market has its own flaws.
Major flaw number one:
It is a little bit hard to operate and set up. This is not a big problem though since Sage offers their customers the white glove service. When you buy this Sage product, they will send over a technician to help you set up the unit. They will also teach you how to operate and get the best out of your coffee maker.
If you are feeling a bit independent though and don't want to avail of the service, the comprehensible manual and starter's guide will help you optimize the features of your coffee maker on your own.
Major flaw number two:
Another sad thing about this coffee maker is that it is a little bit costly. It will charge you more or less than £1,500 to get this coffee maker at home. However, with all the things that it can do, it is guaranteed that you will enjoy making coffee with this coffee machine.
Major flaw number three:
Another flaw of this coffee maker is the very thin and soft metal finish. It can be easily tainted and scratched so you need to really handle it with care. If you don't, your coffee maker will be in danger of having dents and scrapes.
Final Thoughts
A few tips to achieve the best espresso: make sure that you use fresh and quality coffee beans. Even if you have a powerful coffee maker, you will still not achieve a great tasting espresso if your coffee beans are not good.
With all the features and the specs of this coffee machine, the Sage Oracle Espresso Coffee Machine really is a cut from its counterparts in the market. It looks amazing and performs wonderfully as well. Even though it has a few shortcomings, the pros of buying this unit surely outweigh cons. It is truly an amazing product that you and your family would enjoy using.
Don't Forget to Check Out Other Related Sage Machines Articles