Last Updated on September 8, 2021 by YourBestCoffeeMachine
My prime motivation for shopping for an espresso machine was to protect my hard earned money from the coffers of all the coffee shops I had developed a habit of frequenting. Buying five premium cappuccinos a week was starting to take a toll on my budget. In the same vein, I didn't want to overspend on a machine to save me money. I opted for the Delonghi ECO310, because it fit into my price range (this machine usually sells for under $200) and I was already familiar with Delonghi. I also loved it's retro styling and the range of colors that it came in.
Nice milk frothing wand on the Delonghi Icona ECO310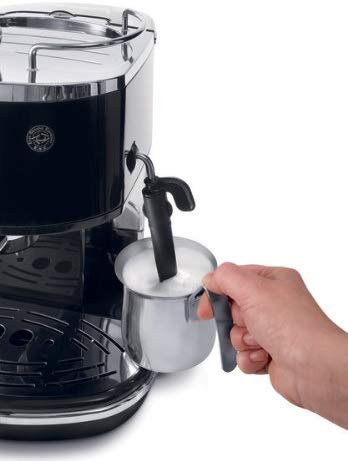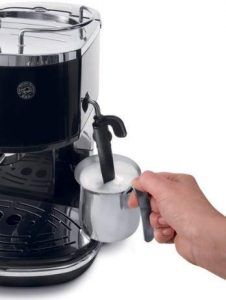 This model has the ability to brew from Easy Serving Espresso pods or your own finely ground espresso coffee. For ground coffee it features both a single or double shot, which they actually call a two cup instead. The filter handle actually has two separate drip holes that allow you fill two cups simultaneously by placing them side by side. I usually use the double for just myself. One of the most important factors that went into my decision to buy the ECO 310 was the presence of a Pannarello frothing wand. This allows you to steam milk for your espresso drinks and the reason I needed a machine was for home made cappuccinos.
How to use the Delonghi ECO310 to make a good espresso?
In terms of espresso quality, this 15 bar machine is capable of pulling great shots as long as you yourself have the ability. In the beginning, I didn't. My success increased as I applied myself more.
For instance, it is important to run a round of water before you actually put your grounds into it and I actually run mine into the cup I am going to drink out of before putting it on the top surface to stay warm. If you don't take the time for this step, you might come up with lukewarm espresso. It is also extremely important to clean the unit after every single use.
If you don't you will run into problems with unequal drip from the dual spouts or decreased steam wand efficiency. Third, I had to learn the feel of an appropriately tamped batch of grounds before my results were consistent. If the filter basket is too tightly packed the 15 bars of pressure won't be enough to get the water through the coffee in time to keep it from scorching. If it isn't packed tightly enough, your espresso comes out looking like tea with no crema.
All of the above noted, I have learned how to consistently make cappuccinos that I enjoy. Remember, I am a complete novice so many in the market for such an espresso maker may find that they can pull quality shots without feeling like it took a lot of effort. My learning curve was completed in about a month and I haven't looked back since. For the price, I am quite content.
Delonghi packed in loads of features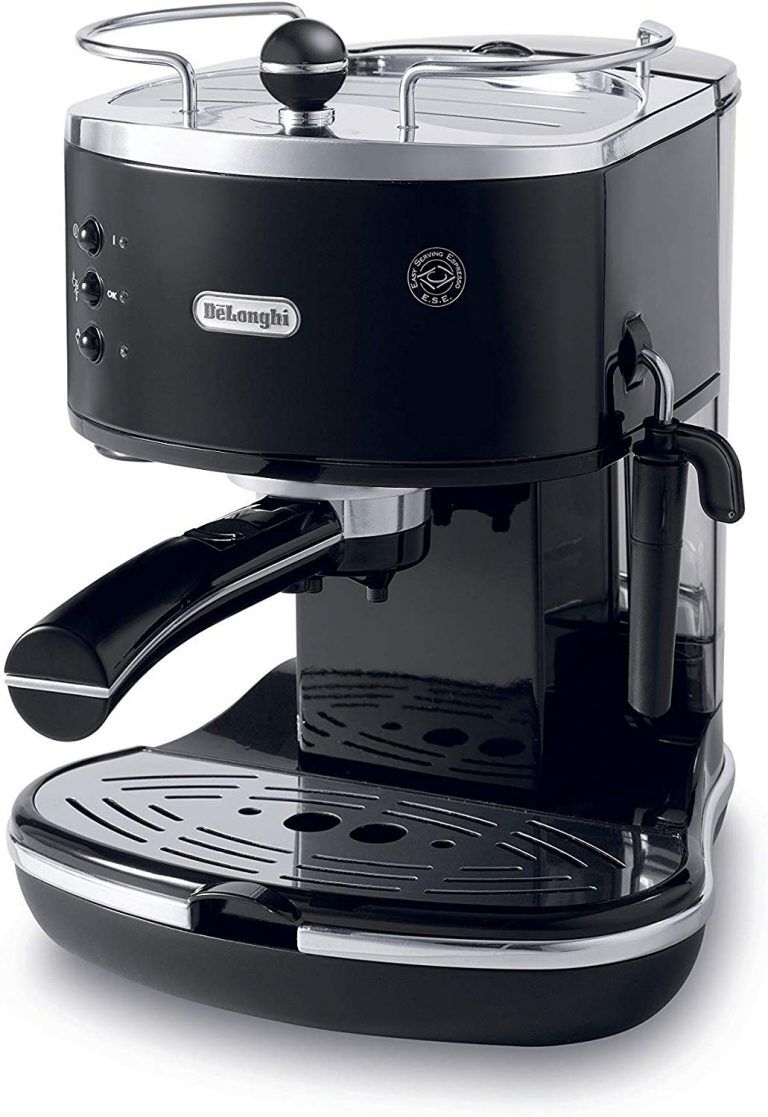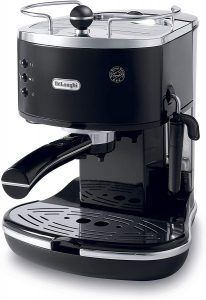 I chose for myself the BK, or black one, but you can actually get it in an assortment of retro colours as well as red and white. I chose the black because I didn't want to spend time cleaning the outside of it too often. Most of that exterior is black plastic but it does have some stainless steel and chrome details that add a little glamour to my countertop. On top, it has a warming surface that won't really heat your cold cups but it will keep them warm. One great feature of the design is the removable drip tray which I load in my dishwasher every night for cleaning. Following the low maintenance trend is the water reservoir. There are no tubes to connect and it has a nice handle to help with removal. Simple and easy, just the way I like it.
The three button system is quite easy to use, though not intuitive at first glance. I made sure to read the manual before pushing or pulling on anything so I had no real problems but it seems to me Delonghi could have made a display that needed no instruction.
Don't rely on the built in temper…
Though generally happy with the ECO310, it would be unfair of me not to include a few of the weaknesses I have noticed in my 13 months with the machine. The built in tamper is pretty much useless. I suppose it is the correct size for the filters but its location prevents you from being able to apply proper pressure with it.
Similarly, the steam wand has limited range of movement which is annoying until you find a suitable milk container. I actually found that it works better without the outer piece. As expected, my 310 isn't the quietest appliance on my countertop but that isn't a big deal because I only run it when I need to. Finally, for the price I expected it to come with a longer warranty – at the time of writing this it is only 1 year.
The Delonghi ECO310 is still a good value
Especially for the price tag, the Delonghi ECO310 is a pretty good value. Its most important trait is the ability to deliver a decent cup of espresso in good time. The frothing wand allows you to make espresso drinks as well as the pure stuff. And the E.S.E. option can increase your convenience if you choose to utilize it. It does have some weaknesses for the pickier coffee lover but for the casual drinker on a budget, it will get plenty of use.