Last Updated on March 14, 2021 by YourBestCoffeeMachine
Updated: March 13th, 2021
I like things, which can be used for many purposes because I think that these kinds of products are practical and can give me big savings. So from the moment I saw this Bosch Tassimo T65 Coffee Maker, I knew I'm going to love it until eternity.
It's got everything that I look for in a coffee maker – great quality, easy to operate and easy to maintain. Plus, it does not only make coffee but also other kinds of hot beverages. I can easily choose from different varieties of drinks like tea, hot chocolate, latte, cappuccino and lots more.
Having this machine at home is like having my own coffee shop because I can get whichever drink I like, whenever I like it. I also get to save money on energy since it switches to standby mode after brewing.
If you are looking for other Tassimo coffee maker reviews, you can go check out the Tassimo T40 and TAS1202GB
Making Coffee Have Never Been So Easy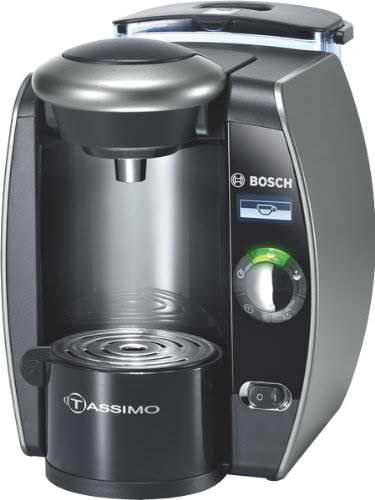 This coffee maker has the dimensions of 37x48x37 centimetres and it weighs 7 kilograms. It looks beautiful in any counter top because it has a titanium surface that is both stylish and gorgeous. My kitchen now looks very sophisticated ever since I got this coffee maker.
Anyway, it's very user friendly because it automatically prepares a drink in just one touch of a button. As simple as that! I don't have to manoeuvre anything just to prepare my drink. Plus, its LCD display informs me if my unit already needs to be descaled or if I already need to refill the water tank.
Another thing that I like about Bosch products is that they use a T Disc technology which is sort of like a barcode system that scans the kind of drink that you wish to have and then automatically sets the temperature of the water, the amount of water that's needed for the drink and the brewing time. This feature makes it easier for me to perfect the taste of any drink that I want and makes me feel like a professional barista.
I used to hate cleaning coffee pot…
When it comes to cleaning the unit, Bosch made sure that doing so is easy. This coffee maker has parts that are safe to pop into the dishwasher and I, perhaps of all people, am really pleased with this because I'm always on the go and basically just rely on the dishwasher to clean dirty dishes and utensils.
Some FAQs about the T65
A lot of first time users complain that their drinks taste bad and it is nowhere near the coffee shop quality.
The machine and the coffee are fine! The coffee quality is on a par with the coffee shop standard. I used to buy coffee everyday from Costa and now I just make my own using the T65. It saves me a few pounds everyday but it adds up to a large amount overtime.
You just need to flush your machine before your first use. Basically all you need to do is to run the machine once with a full jug of water. Otherwise, the coffee you make may have a plastic taste if you haven't flush it properly. You can follow the guide here.
Another common issue is that people sometimes put a pod in before switching the machine on. The machine then won't start brewing because it can't read the bar code.
The solution is simple. You just need to switch the machine off and redo the process again. Switch the machine on first, then put in the pod.
Finally…
The only downside is that the discs are expensive. However, they produce great beverages anyway so I don't mind. You can also check out other Tassimo machine here.
This product is really brilliant and it is a real joy to have. I don't have any problems with it so far aside from the expensive discs that it uses. What I did as a solution to this was to register my unit to Bosch's website to receive vouchers, just like the other users. I recommend you do the same.
<< This product is no longer available. For a similar current model (available in the US), you can check this out with price on Amazon.com here. >>