Last Updated on May 31, 2021 by YourBestCoffeeMachine
Updated: March 13th, 2021
Introduced in 1998, the Rancilio Silvia has become the standard against which all other coffee machines are evaluated against. Dubbed by many as "the most consistent and faithful espresso machine you can have", it indeed is a machine that makes a near perfect espresso or latte at a reasonable price and will last for a very long time.
Since its introduction, Rancilio has made aesthetic and practical improvements every few years and is now currently in its third revision.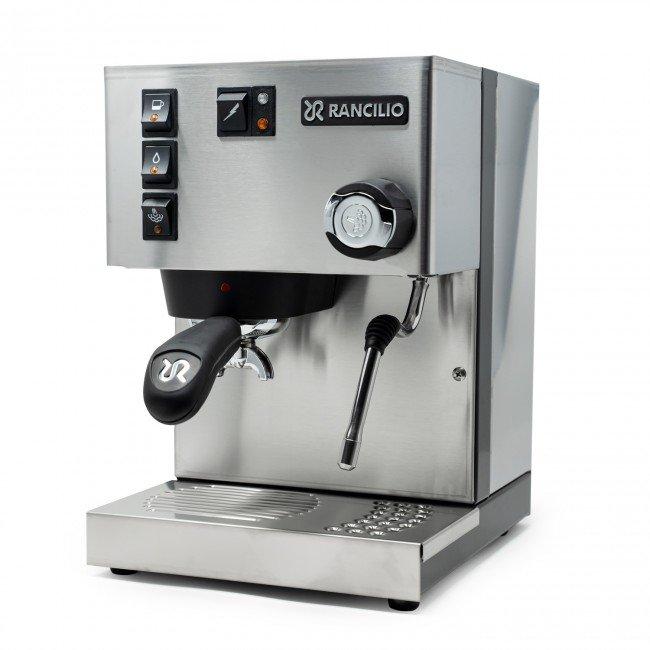 Let's Start the Rancilio Full Review
Stainless Steel Design
The Rancilio Silvia has a casing of brushed stainless steel with exposed black powder coat frame that blends well with most of today's modern kitchens, particularly those with characteristic stainless steel appliances and themes of chrome.
The machine's countertop footprint is small, which allows a lot of working space in front of the machine. The drip tray is very thin – you'll need a catch container for flushing water through the group, or else it will need emptying every second shot.
<< Check the price of this model on Amazon.com >>
Stylish Steam Wand
It also includes a newly designed steam wand that swivels on a ball joint. More than plenty who struggled with the multi-hole steam tip on the old Silvia ages ago welcomed the new beginner-friendly one-hole steam tip. The steam boiler creates sufficient volume and velocity, which makes it easy to roll the 8-10 ounces of milk.
What makes the Rancilio Silvi Version 3 among the best machines in the market today? The answer is having a well-built casing in stainless steel along with its brass components all over and an upgraded commercial-grade steam wand. The Silvia espresso machine's simplicity, reliability and power produce superb espresso and silky microfoam milk for your lattes and cappuccinos.
Easily Control the Temperature
You can add even more consistency to your Rancilio Silvia with the addition of a PID controller: these units enable you to take control of the temperature variance by degree.
This machine quickly produces a lot of steam for hot boiling water and milk frothing for your cup of coffee or tea and has an efficient steam wand. The machine's brew group, as inspired by Rancilio's professional espresso machines, is chrome-plated brass that ensures level heat and water distribution and results in highly consistent espresso extraction. Steam power is good enough to produce nice micro foam, although you need to bleed the system by opening the steam valve to get rid of condensation in the pipe work before putting the wand into the milk.
Three-way Solenoid Valve
The machine's commercial-grade pressure release system uses a three-way solenoid valve which enables for an easy clean up, either by lessening splatter from an accidentally removed portafilter or by lessening post-brew drip – completing a dried out coffee ground "puck".
Detachable Water Reservoir
The water reservoir holds 67 oz. and is detachable, which makes for easy and regular care. It can be filled while operating or by taking it out and filling it. The Rancilio Silvia also features a 15 bar heavy duty pump that will effectively force water through the ground coffee and direct to full flavour extraction.
The machine's 12-oz. brass boiler evenly distributes the heat, making the boiler get up to the temperature quickly and can easily maintain it through several repetitive uses; and the three thermostats monitor the espresso, steam, and boiler heat to make sure of an excellent espresso extraction without the worry of overheating.
Easy to Install, Just Plug and Brew
The Rancilio Silvia also wins design-wise with its overall stainless steel construction: stainless steel bolts, screws, brushed stainless steel case, heating element, rust resistant steel frame, and nothing but the finest tubing and fittings, which gives it an industrial, sleek and functional design. It requires no special plumbing or electrical outlets – you can plug the Silvia easily right in and it's set and ready to operate.
Comes with Two Filter Baskets
For the machine's filter baskets and portafilter, it comes with two stainless steel filter baskets which measure 58 mm in diameter and a heavy-duty and commercial-grade chrome plated brass portafilter. One is for single, while the other is for a double shot.
It also has a stainless steel drip pan and cup tray which are both easy to remove and clean, plus there includes a warming surface on the top of the Silvia which gives you a place to warm your cup before you dispense your espresso: this keeps it at the right temperature, which is an essential element of fine espresso.
It has a Suspension to Reduce Noise
An additional feature of the Rancilio Silvia is its rubber vibration-suppressing feet to lessen any vibration produced from the pump; the noise level, in general, does not go beyond 70dB during use.
What are the Main Pros and Cons
The main upside of the Rancilio Silvia is that consumers will find it simple to manoeuvre around and manage. It is priced well for a serious machine: you can never go wrong with this well-designed, high-end coffee machine with great features and dependability. The heating element is even removable that makes for quick and easy restorations.
<< Check the price of this model on Amazon.com >>
The downsides, though, includes really getting your grinds dialled in to extract an ideal shot – the machine advantages from a high-end grinder to get the most performance out of it.
There are also no programming capabilities with the machine, except for the PID, which can be installed optionally. Surfing for the perfect brewing temperature would take some trials and errors. Also, there is no auto-fill feature for the boiler, which means responsibility on the user's part to set the boiler for brewing in a cycle.
Conclusion
The Rancilio Silvia turns out ideal shots, but it does take a little more work because of its specific grind requirement. You must be prepared to dial in your grind whenever a new bag of beans will be used, and for the best flavour, use fresh beans.
If you love espresso and you want to upgrade, the Rancilio Silva is a brilliant choice. There considerably is a learning curve to get used to the machine and the mastery takes time and patience – a lot of it.
But if you enjoy your current passion of making your own drink, the Rancilio Silvia espresso maker is a prize. It will become your dream coffee machine making your choice brews how it suits you perfectly.