Last Updated on March 14, 2021 by YourBestCoffeeMachine
Updated: March 13th, 2021
Nespresso Citiz is one of the greatest innovations in the coffee industry. The gadget is excellent and amazing when it comes to coffee preparation. It makes coffee making simple, easy and fast. The gadget is so reliable when in hurry rushing to job or meeting you can always count on Nespresso Citiz.
The coffee is rich and has a thick crema which brings an unique aroma. The gadget is so affordable which makes it the perfect coffee maker as rated by many users. The features are easy to operate and you can learn how to use it in a minute but first let's study the merits and demerits of this coffee maker.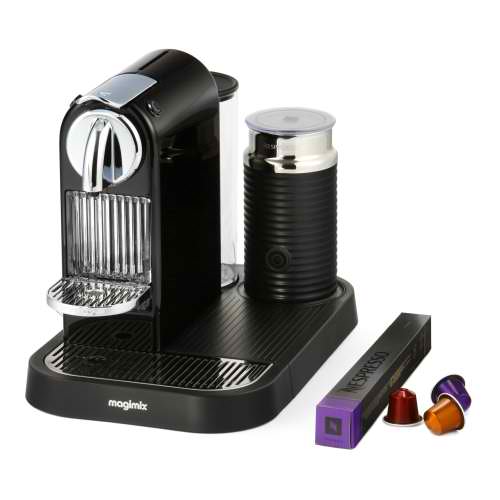 PROS
It's very fast in coffee making and gives you perfect coffee in seconds
The coffee maker is very easy to operate and gives you easy time in making your coffee
The cappuccino or coffee has a good aroma
The gadget design looks attractive and very decent
It's tiny and you put it on your working desk
The coffee maker is durable and sustainable
CONS
The Nespresso only accepts its own capsule hence doesn't accept any other apart from Nespresso capsule. This sometimes makes it inconvenient for some users.
My Verdict
I bought this machine for my mum's birthday and she loves it. The machine is so easy to use – even my mum who is a total gadget noob can use this machine without reading the menu. By just pressing one or two buttons, you can literately brew a coffee in minutes. This coffee gadget is available in various colors and designs, but the major known colors are the Limousine Black and the famous chrome. I got her the black one because it looks very classic. The gadget has both lungo and espresso options to choose from. Lungo is an espresso but with more water. I personally prefer lungo because the coffee is not as strong. It also produces a 19-bar pump pressure which gives my coffee a nice crema. If you fancy latte or cappuccino, you can get the Aeroccin which is a Nespresso branded milk frother. By just pouring milk into the frother and pressing on a button, you can get the froth milk for your coffee in less than a minute.
<< Check the price of this model on Amazon.com >>
Here are some features you need to know about the Nespresso Citiz coffee maker
It supports both espresso and lungo
The water reservoir can be easily removed and returned back for maintenance and cleaning
The water tank can hold up to 1 liter of water
The cup tray in the Nespresso Citiz can be removed, re-adjusted to allow cups of various sizes
It only uses its own capsules
It consumes less energy and has energy saving mode to save bills
It has disposal container for used capsules