Last Updated on March 14, 2021 by YourBestCoffeeMachine
Updated: March 13th, 2021
The Jack Stonehouse Espresso Machine is the perfect espresso machine for home or office use. The 15 bar pump allows for enough pressure to create your own Espresso, Cappuccino, or other steamed espresso beverage any time you want. Included with each machine is a dummy-proof filter and grounds tamper. The filter comes with both single shot of double shot inserts for the perfect shot every time.
Light Weight and Compact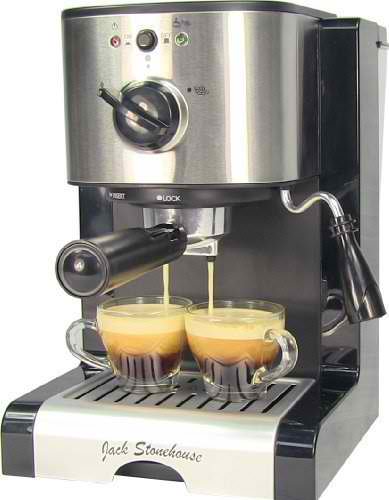 The easy flip switch allows you to quickly and efficiently go from brewing to steaming your milk into a rich, creamy froth just like the pros for you cappuccino, mocha and latte. The easy to clean steam arm is the perfect length to steam just the right amount of milk for one or two beverages.
Most impressive is the machines light weight and small size which make it easy to use, and allows it to fit into almost any home and can still be stowed away in most cabinets. The approximate dimensions of the unit are 19cm x 24cm x 29cm. The one liter water tank is removable and easy to fill or clean. The removable brushed stainless steel drip tray is perfect for quick clean up and prevents those unsightly spots from forming under the brewer when you are done with each brew.
Fit Standard Espresso Cup Only…
While the manufacturer states that the machine is built to accommodate a full size cappuccino cup we found that to be a bit of a stretch the distance between the filter and the drip tray is really only sufficient for most standard espresso cups only. Any other cups will require a bit more work, as you'll want to fill the espresso cups and then pour them into a different cup. While this doesn't seem like a big deal, it will have a negative impact on the final result of the drink as the crema that forms in the shot will become flat.
Our other concerns with the machine are again pretty common to most starter machines. The filter will continue to drip once you have turned off or switched modes from brew to steam. You will want to make sure that you pull your cups at this point as the espresso that drips at this point is not as flavorful as the initial brew. Additionally, this machine would be much more user friendly if it had the ability to brew and steam at the same time.
Conclusion
All in all this is a great unit that I would highly recommend for the beginning user, while it has a couple small issues when compared to the higher end models, they are vastly outweighed by the ease of use and consistency of the Jack Stonehouse 15 bar Espresso Machine. For the price this is a machine I wouldn't pass up!