Last Updated on September 3, 2021 by YourBestCoffeeMachine
Updated: March 13th, 2021
When you are choosing a milk frother, the most ideal frother to purchase is normally based on what you require and the budget you are working with.
Things you should factor in mind is the handling, ease of cleaning, best foam results, and whether it is manual, automatic or electric.
There are several types of frother on the market today, some with their own unique functions. Before purchasing your frother, here are some basic questions to get answered:
What type of milk frother do you require?
What are the basic function/features of the milk frother that you want?
What additional items will you need to froth milk?
What is the best choice of milk for your frother?
Types of Milk Frother
Hand Held Wand Milk Frother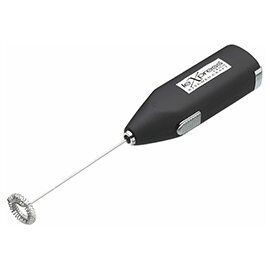 PROS
They are the least expensive of the frother types.
They can be used to froth hot or cold milk.
CONS
Frother cannot steam the milk. Milk has to be steamed on the stove or microwave before frothing.
Batteries need to be changed often.
It takes longer to froth milk with hand wand.
<< Check the price of this model on Amazon.com >>
Hand Pump Milk Frother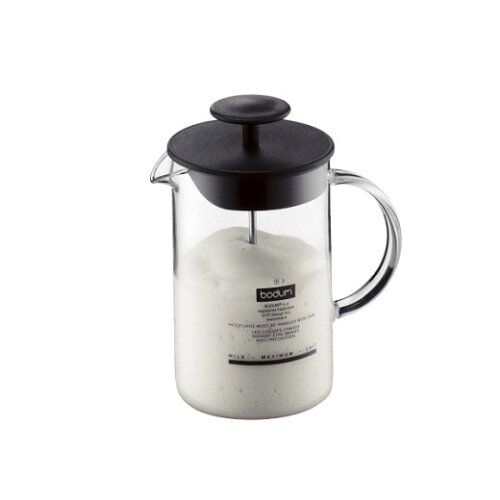 This type frother comprises of a stainless steel or glass pitcher, a mesh screen attached to a plunger handle and plastic or rubber rim to prevent milk from spilling. You are required to manually pump the milk in order to get it frothed.
PROS
Dishwasher safe.
Easy to use and inexpensive.
CONS
Only cold milk can be used in hand pump frother.
Will do small batches of frothed milk.
<< Check the price of this model on Amazon.com >>
Steam Frother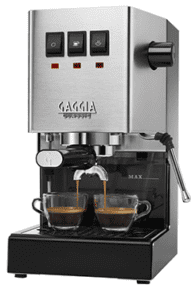 The steam frother works by steaming and frothing milk simultaneously. This feature is normally produced by steam wand attached to an espresso machine.
PROS
It is great for making large hot batches of frothed milk.
You will get perfect microfoam.
CONS
You will have to purchase an espresso machine to get access to steam wand.
It requires practice and wand positioning to get the best quality froth from the milk.
Electric Milk Frother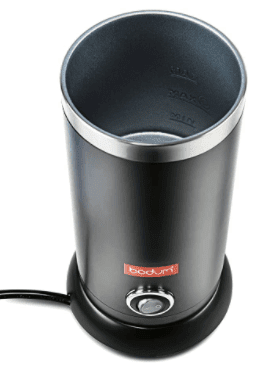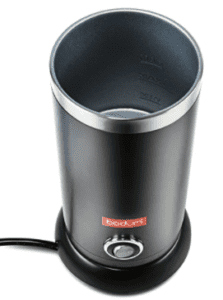 These are small electronic devices resembling an electric kettle or small blender. The electric milk frother normally comes equipped with a jug to pour the milk in, a base, a motorized cover and a wand extended from cover with a whisk on end.
Some machine has a motorized base, the whisk is placed inside the jug. The jugs normally recommended milk level markings inside. They froth and steam milk at the push of a button, the machine will automatically shut off when the milk is at desired temperature.
PROS
The machine will automatically froth or steam milk.
Will froth large batches of milk and end quality is excellent.
CONS
They are a bit pricey, depending on brand and features.
Takes up to three minutes to complete frothing milk.
Some brands can be a bit noisy.
Basic Features of Milk Frother
To find the best frother that suit all your requirements, you must consider the features of the machine you are going to purchase. The following are seven basic features you should take note of before purchasing:
Speed of Frother
The speed of the frother is very important as this will determine the amount of bubbles that can be incorporated into the milk for best results. More air will be incorporated into milk with slower motors, because it will take a longer time to froth milk. The speed will be determined by how powerful the motor is and the power available in the batteries (for hand held Frothers).
Temperature Control
Some electric models will allow you to control the temperature of frothed and steam milk. Temperature of milk will be indicated on base with led indicators. This will let you choose the temperature you require for your frothed milk.
Dishwasher Safe
The jug on most electric models are dishwasher safe for no hassle cleaning.
Outcome of Frothed Milk
The outcome of frothed milk will be determined by whether or not the milk is done at the right temperature, thickness of wand and where wand is connected to the body.
Ease of Use
You can start frothing milk with little or no instructions using any of the milk frothers. Frothing and steaming (with electric frother) is done at the touch of a button.
Design of Frother
The design of the frother will complement ease of use and safety. For example, some machines have rubber gripping on base and handle. Also check the button position on wand frothers and electric frothers. With some electric models, you have to hold the button to steam and press and release to froth, while others have two or more buttons to do the job. There is also the subject of the click-button, these buttons requires you to click to turn on and off the frother.
Weight
Lighter milk frothers are easier to handle and makes it easier for you to move the machine where you want to.
Additional items required to forth milk with Milk Frother
There are some items that are required to froth warm milk when using hand wand. These items are:
– Espresso thermometer. Required to check the temperature of milk steamed on stovetop or microwave.
– Milk Pitcher or Container to froth milk in.
Choice of Milk for Milk Frother
While Hand held and Pump Frothers' works well with any kind of milk, some electric frothers do not work well with soy and rice milk. Whole and full cream milk will give the best results overall when frothing. Milk should be cold when frothing; the colder the milk before frothing the better results achieved.
Summary
Hand held and Pump frother will do small batches of frothed milk. While hand held frothers can froth both cold and steamed milk pump frothers will only froth cold milk.
Using the hand held and pump frother will take much more time to froth milk than using a steam wand or an electric milk frother.
The electric milk frother will automatically froth and steam milk, then shuts itself off when the milk is at desired temperature.