Why is it important to get the best coffee grinder ? Most people don't know this, but one necessary part in making a great tasting coffee brew is the bean grinding process. Having a good coffee machine with grinder is like having whipped cream on top of your hot chocolate. But what if you don't have a grinder in your coffee machine? In this article we give you some tips on what to look for and how to choose a coffee grinder if one isn't built in to your machine.
Whether your dream is to become a barista or you are just a simple coffee lover who wants a personal touch in every cup you brew at home, there are certain important things that you should consider if you want to have that perfect coffee: a supply of fresh high quality beans, good water, and of course, a perfect coffee grinder.
It is in how the coffee beans are ground that the taste and quality of your coffee depends. In fact, making a mistake in grinding the beans translates to a significant difference in your final brew, even if you have all the perfect ingredients and an amazing coffee maker. You see, when you ground your coffee beans, whether you want them Turkish style, fine, medium or coarse, there are many things to take into account. Also, you have to make sure that the beans are ground properly, equally and consistently, depending on the brewing method that you want to use. Over-grinding or under-grinding your coffee beans can make them either less flavourful or too bitter. For this reason, you must be equipped with a coffee grinder and to make sure that you have the right kind. To do so, you have to consider the quality of materials used, range of options for grinding, speed, and of course, type.
Manual or electrical coffee grinder
There are many types of coffee bean grinders. Long ago, people have to content themselves in manually grinding their coffee beans. Today, more and more models of coffee grinders have surfaced, featuring new mechanisms and methods in coffee grinding. Electrical grinders are what mostly used today, but manual coffee grinders are still available in the market and are still popular choices for some.
One of the things that make manual grinders attractive is their price. Since grinders of this type do not use electricity, and are relatively simpler in terms of its mechanical components, their prices are relatively much cheaper than electrical types. And it is also for this reason that makes it portable and can be used whenever and wherever you want. However, if you want to reach a finer consistency it will take a longer time for you to grind the beans, which is not advisable when making an espresso, or any coffee for that matter. It's good for a few cups or so, but very tiresome if you want to grind for a whole pot. It will also require more effort from you and most manual grinders cannot ground coffee in the right consistency and texture.
Electrical coffee grinders on the other hand, although more expensive than manual types, are more convenient to use. You can ground coffee with just the flick or push of a switch, and even adjust the settings for a wide range of grinding options. Being faster than manual grinders, electric-powered ones are also capable of handling more amounts of beans, depending on the capacity of the model. However, the problem with these kinds of grinders is that they make too much noise, unlike the manual ones. For those early morning brewers, this has been an inconvenience. And since they need electricity, you can't just use them anywhere you want.
Blade vs. Burr coffee grinder
Coffee grinders can also be classified into two categories, blade or burr grinders. Blade coffee grinders are older types of grinders, using a propeller-like blade to grind the coffee. But because it only uses blade, it makes more noise and it cannot properly ground the beans and leave them with an uneven texture. Achieving a fine and consistent product is nearly impossible with a blade grinder. In addition, the spinning blade of the grinder can produce a high temperature, and as high temperature burns the coffee, it will affect the flavour of the resulting brew badly. Because of this, blade grinders are cheaper in comparison, which is good for those in a tight budget, and they are also readily available in stores. Most blade grinders are also smaller in size and can thus be portable and consume less space.
In comparison, burr coffee grinders are better than the other type. Instead of using blades, burr types grind coffee in a chamber made of wheels or discs with equally serrated edges. This ensures that the ground beans that go through it are evenly ground and are consistent in texture. Most models of burr grinders can also allow you to adjust the setting of the grinder to reach your preferred consistency, from coarse to fine, even to Turkish style. Burr grinders also make relatively less noise than grinders that use blades or propellers, and thus are less disturbing in mornings. One downside to this type is that most models of burr grinders take time to finish grinding, as compared to blade grinders, which are relatively faster. They are also more expensive, perhaps the most expensive, type of coffee grinder.
Nowadays, some coffee grinder models incorporate the characteristics of the different types. For example, there are now manual and electrical grinders that both use either burr or blades to grind coffee beans.
Best Coffee Grinder Reviews – Best grinders for under £50 in UK
With a wide range of choices of coffee grinders, each ones with their own advantages and disadvantages, you have to pick the right one which suits your needs. We have consolidated all the reviews for the best selling grinders into one post –check it out. But one consideration in making your choice is its affordability. There are many cheap coffee grinders out there that fall below the £50 mark, with the following two examples topping the list, not only because of their affordability, but quality. If you are from the UK, you can easily order these grinders on Amazon, Tesco, or any other supermarkets.
Hario Medium Glass Hand Coffee Grinder Review
It's hard to find an amazing coffee grinder with the price below £50, but consider yourself lucky because you can now get the best hand grinder ever released in the market worth every penny of your tight budget, and that is none other than the Hario Coffee Grinder.
It comes in a beautiful and very ergonomic design and easy to use features. It sports a dimension of 40.6 x 27.9 x 33 cm and weighs 866 grams, making it a practical space saver and easy to move around. Its longer handle and easy to grip knob makes it easy for you to ground the beans, and you can adjust the grind. This grinder also has silicon cover, which keeps the hopper tightly sealed to keep the beans from spilling out the grinder.
Other than its budget-friendly price, one of the best aspects of the Hario Medium Glass Hand Coffee Grinder is that it uses a ceramic burr, ensuring consistent and proper grinding of coffee beans. Known for being very durable than metal, the ceramic bur repels rust and is not easily stained. It also ensures that the ground coffee retains its natural flavour. The bottom container, made of heatproof glass, makes it easy to see the resulting ground coffee, so that you can tell whether you had enough or you are grinding in the right consistency. In addition, the base of the grinder has an anti-slip cover to help the grinder steady during the grinding process. The unit is also easy to clean and is dishwasher safe, so you do not have to worry about damaging the grinder when you wash it.
The drawbacks about this grinder though, is that it does not really come with a clear set of instructions, so most users take a long time to figure out the right calibration to adjust for their desired grinding consistency. And like other burr grinders, it also takes a little while to grind, at least a minute. And there's also the matter of manually grinding the beans.
But hey, it's the best of both worlds with the price of a few pounds for a perfect cup of brewed coffee. It has the quietness and grinding efficiency of a burr grinder, and the portability and practicality of a manual grinder. Plus, most satisfied customers find the manual grinding a relaxing early morning ritual and a good arm exercise, too.
Andrew James Coffee Grinder Review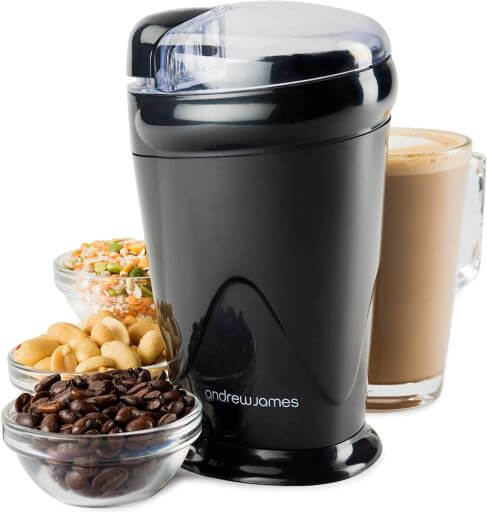 Another less expensive but high quality coffee grinder out in the market today is the Andrew James Coffee, Nut and Spice Grinder. Unlike the Hario Medium Glass Hand Coffee Grinder, this grinder is electrically powered, making grinding coffee easier with just the push of a button. It has a sleek and simple design, weighing 998 g and has a capacity of 70 g, enough to brew 10 cups of delicious, steaming hot coffee. It has a good 150 watt motor which powers its stainless blades, strong enough to ground not only coffee but also nuts and spices. Its transparent cover makes it easy for you to monitor the grinding process. It also has a safety mechanism to protect you from accidentally injuring your hands. It's also practical as it doesn't take up too much space and it comes pre-assembled so you don't have to trouble yourself anymore.
However, there are also downsides with this model. Other than the less consistent grinding texture you commonly get from blade type grinders, some customers find their units easily overheating. So unfortunately, you can't grind coffee, nuts, or spices for a long duration of time with this grinder, especially those in large quantities. Well, you can do so but only in short bursts. Also, the whole component is not dishwasher safe, and the only part you can wash is the cover, with the inside compartments required only to be wiped.
But then, for a reasonably priced blade coffee grinder, this is still one of the best high quality and less costly grinders your money can buy in the market. It's easy and safe to use, and plus, with its strong motor and stainless steel blades, you can get ground coffee ready for brewing in seconds for a great cup of morning drink not only for you but also for your family or guests.
Conclusion
We know it is not easy to choose the perfect grinder that you want. So hopefully this post can help you identify different types of grinders. If you're still not too sure which one you should be getting, you can read more grinder reviews here. Also, leave a comment on the below if you have any questions. We are always happy to help!