Last Updated on August 16, 2021 by YourBestCoffeeMachine
If you fancy a cup of remarkable Italian espresso and you want to have it without leaving the comfort of your home, then, this is the ultimate machine for you. Gaggia Carezza Deluxe Espresso Coffee Machine is your new best friend because this machine has a capacity of 1.4 litres and its water tank is removable for easy cleaning.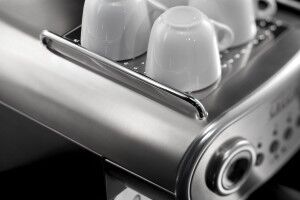 It is easy to use and very hassle free to operate. It looks chic and vintage which makes you feel like you are drinking coffee in an 80's diner. Its dimensions are 30 x 21 x 28 centimetres and it weighs four kilograms. It comes in a classy grey and black colour that will surely fit in with the hue of your kitchen.
Great Machine, Comes With Great Features
The Panarello, also known as the classic milk frother, gorgeously turns ordinary milk into creamy milk froth in order to make cappuccino or latte. You don't have to worry about the temperature of the water because its boiler temperature gauge monitors the boiling water. It also comes with a pressurized double walled filter holder that improves the extraction of crema and also allows crema isolation in order to make the espresso creamier and hotter.
It comes with two filters. One for the coffee which makes for up to two cups of ground coffee and another for Easy Serve Espresso pods. It is also powered by a 15bar pump pressure in order to achieve the taste of a real espresso. Other features include the hot water or steam nozzle and its brita filter compatibility. Its boiler is made of stainless steel so make sure that you clean it often to avoid rust from accumulating.
One of the good points about this machine is that it allows simultaneous brewing. The coffee that comes out of the machine is piping hot and very tasty. It also comes with a descale warning which will indicate whether a descale cycle is necessary. This mechanism will help prolong the life of the machine so it's guaranteed to stay with you for a long time. Its spare parts are also available which means that you can easily replace damaged ones if necessary.
A downfall of this machine is that it is button-operated which makes it inferior compared to switch operated machines. You don't have to worry though. Even if this is the case, your coffee will still come out rich, delicious and tasty.
It's Definitely a Great Buy
It sure can be considered as a best buy. And even if it is a bit expensive, you will still get your money's worth because it is easy to use and makes amazing coffee. Be sure the follow the instructions in the manual to prevent any inconvenience. Make sure to clean the water tanks regularly and dry it thoroughly to avoid rusts and damages.