Last Updated on May 20, 2021 by YourBestCoffeeMachine
Updated: March 13th, 2021
The Dolce Gusto Melody 3 has several features. The first is the 15 bar pressure system that produces the appetising creamy crema and the rich espresso flavour that can be experienced when consuming your favorite beverage. The bar pressure system allows the machine to force water through the grain of beans (increasing the surface area) through extraction, so the beverage has that desired flavour you are looking for. The second feature is the thermo-block technology. The Dolce Gusto Melody's thermo-block uses the pump to pulse water droplets into the superheated block that converts it into steam. The heating range for the product is between 180 to 190 degrees Fahrenheit. The process allows for a one minute, quick water heating to prepare the chosen hot beverage.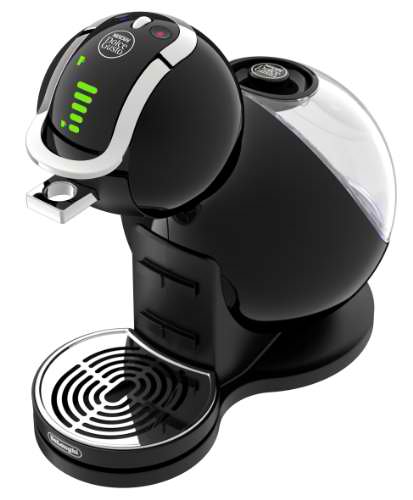 It uses Nescafe capsules
Nescafe capsules have a large range of drinks and it is perfect for those people who like to try something new everyday rather than just coffee. Unlike Nespresso which only provides the espresso range, you can get latte, mocha or even tea from Nescafe.
The futuristic stylish and sleek machine comes in both red and black colors. I had another machine before and the problem was that the machine size is too small for my favourite cup. This Dolce Gusto Melody 3 has an adjustable height drip tray that fits all cup and glass sizes and I can finally use my favourite mug. The machine also includes a 51 ounce tank that is both easily removable and washable. The product is easy to assemble and is compact, so it occupies minimal space.
There are two versions of this machine – the normal Melody 3 and the Melody 3 Play & Select. The Play&Select one is the newer model and here are the differences between those two models:
1) The Play & Select model replaces the old lever control with a mouse wheel. In the old model, you need to manually control the coffee quantity, but in the new one it automatically does it for you.
2) The Play & Select model has a eco-on/off function which help saving electricity.
So which models should I choose? Is the Dolce Gusto Melody 3 worth spending cash for? I can tell you that I am very happy with the old Melody 3 model and I am still using it everyday. The new features that the Play & Select model have do not really make much difference in my opinion. But it cost about a lot more than the old model which I don't think it is worth it.
Compared to other coffee and espresso machines, the Play & Select model is quite expensive. If you want to save some money you can buy the old model which is very similar.
<< This product is no longer available. We will be adding more independent reviews of current models soon to the site.>>