Last Updated on May 28, 2021 by YourBestCoffeeMachine
Updated: March 13th, 2021 – Just so you know, if you click on a product on our site and decide to buy it, we may earn a small commission.
Our first DeLonghi ICM 15210 review was some years ago when it was one of the best sellers on Amazon. It's pleasing to see that DeLonghi have continued with this model and given it some love producing an updated model – the DeLonghi ICM 15210.1 (known as the DeLonghi Caffe Americano in the US). The UK model is still one of the top sellers on Amazon.co.uk no doubt because it still makes great coffee.
The updated models retain the same dimensions of 22.5 x 20.5 x 32 cm (8.86 x 8.07 x 12.6 inches) and a weight of 1.7 kg which makes it easy to picture the DeLonghi ICM 15210 Filter Coffee Maker's size. Its small size makes it very convenient for those who have a limited space or those who do not want to have any bulky kitchen appliances.
Not #1 Best Seller but still a great machine
This DeLonghi ICM15210.1 filter coffee machine is made for ground coffee and given it is easy to clean in my view, it is necessary if you love drinking filtered coffee, whether heavy, addicted or not. This was the No.1 best seller on Amazon UK although now buyers are favouring the Morphy Richards 162008, with this machine coming in at number 34 in Filter Coffee Machines at the time of writing. I've still got one for my house and it still does an excellent job.
The DeLonghi ICM15210 Has All The Great Functions
The DeLonghi ICM15210 Filter Coffee Maker is one of the best drip coffee makers that one can use. Its functions are triggered by manual controls and are very easy to use. Whether you are new to using coffee makers or not, this is definitely an easy machine to control.
Apart from the easy-to-use controls, it also displays the water/liquid level, which is highly useful to estimate how much coffee you are making.
It has a non-drip device jug, which can be removed at any time even though the coffee is still brewing. This function is helpful when you can no longer wait for the coffee and just want to have a cup for yourself immediately. In other words, there is no need for you to patiently wait to have a cup of coffee; with this you can safely get the cup.
Auto shut-off is perfect for lazy people like me
Moreover, if you are busy and cannot afford to monitor and look after the coffee maker, then this is perfect for you because this is built with an auto shut-off system. It is fine and safe even if you leave it on making coffee at home for it will shut itself off. This is also a convenient function for those who often tend to forget things. Imagine when heat something and it dries up and your heating machine blows up. Well, that couldn't happen here.
It is also helpful when you want to go out for a moment and wanted to have a cup of hot coffee when you get back and there is no one at home to make it for you, then, you can just make one for yourself before you go. When you get back, you can welcome yourself with a fresh hot cup of coffee.
Paper filters mean less cleaning!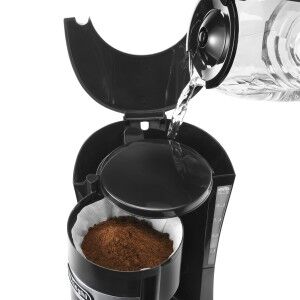 The paper filters that this coffee maker uses also guarantees the freshness of the taste of the coffee that you sip on. It also helps in avoiding the building up of lime scale that can sometimes occur when using the permanent filters.
Once you're done preparing the coffee, you can take the jug with more ease since it is non-drip. Reheating is not necessary too if you want to enjoy a hot cup of coffee because there is a built in thermostatic hot plate which makes sure that once brewing is one, the carafe will still keep it warm.
There Are Some Downsides
Aside from its inability to prepare large amounts of cups for a large group, there are a few complaints on the taste this coffee maker produces.
While you may get your coffee while it is not completely done, taste and quality for some have been affected so it is recommended for you to wait for a while to ensure you get the coffee taste you desire. But nevertheless, it is still a highly recommended coffee maker, with a good star rating, which everyone will surely love to use.
It is light and small, easy to use and easy to maintain. This is a definite steal for those who love drinking coffee and a very good experience for those who wanted to start making their own. Whether the coffee produced is good or not that good that could depend on the beans you use and how you patiently follow the instructions contained in the user manual. However, with enough practice, there is nothing that cannot be achieved. You will soon realize what a good buy this can be or perhaps a nice present for the holiday season. Grab it now and enjoy its functions.
Conclusion – is the DeLonghi ICM 15210 still worth it?
For coffee drinkers like me, you'll love the ease with which you can make your own cup with this machine. Because let's face it, there are times when you just do not have the time to make even a cup with an espresso machine and there are times when there is no one around whom you can ask a favour to brew for you. Thus, the DeLonghi ICM15210 is definitely a very good buy and every penny spent is worth it. The experience you'll have from using this product is more than the cost paid in acquiring one.
I never had any regrets so far since I had this addition to my tiny kitchen and my family has no complaints with regards to this coffee maker which is why I had to provide an updated Delonghi ICM 15210 review. It is the best filtered coffee machine thus far that I have tried. I highly recommend this to every coffee lover. When I first used this, I can assure you that I did not have a hard time familiarizing the functions of each buttons. This manual control is easy to understand. Even though the taste and blend of the coffee still depends on the one making it, this coffee maker is a great help. So if you plan to brew your own drink, I'm giving this two thumbs up – so much so that it made my list of Coffee Makers Fit for Christmas and Special Occasions !