Last Updated on September 8, 2021 by YourBestCoffeeMachine
The Delonghi EC820B pump espresso machine (this is the updated model to the discontinued EC820) features a stylish look overlaying a high quality design and I am quite happy to have it on my worktop. It is easy to use and delivers quality espresso, which were my two highest priorities in making the purchase. It also features a milk steamer and other nifty add-ons for making your brewing life more enjoyable. Note that in the United States the most comparable model is the Delonghi EC702 which is very similar except that it is made from stainless steel.
Unboxing the Delonghi EC820B pump espresso machine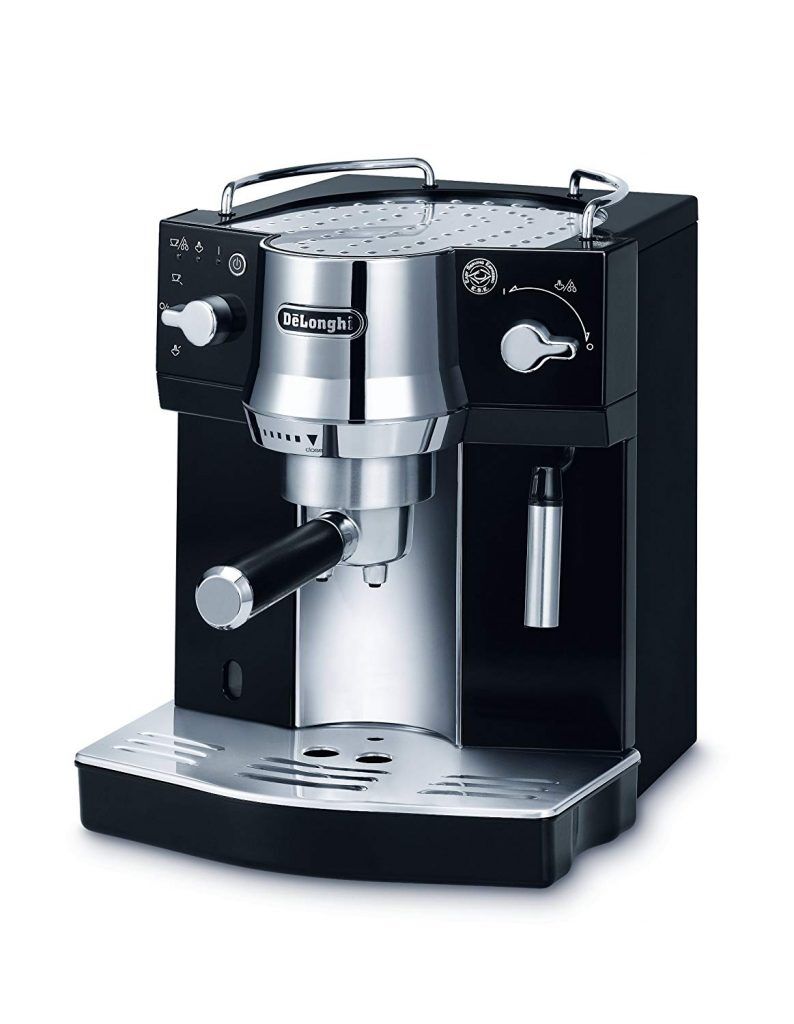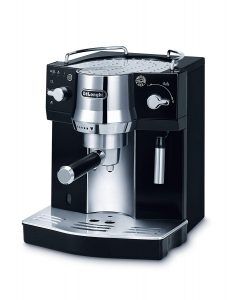 Upon opening the box, I was delighted to find that I liked the look of it even more than I thought I would from the pictures. It has a classic and futuristic look at the same time and doesn't take up too much room in my little kitchen. You aren't going to find an espresso maker in this price range that isn't made of plastic but this one has a nice, durable feel to it and the chrome accents look great! The United States comparable model is made from stainless steel making it even more durable. The filter holder is designed to look like a professional one which is really fun for me.
Perfect for novice home barista
The filters are compatible with E.S.E. pods or ground coffee. There are two separate filter sizes for what they call one cup or two cups. The filter holder has the two spouts setup customary of Delonghi espresso machines and this allows you to brew into two separate cups at the same time or all into one. The filter baskets themselves are pressurized and the handle contains some sort of 'integrated crema device' (as advertised on the DeLonghi site) helping you brew a consistent espresso with plenty of crema.
While tamping and grind size have little (if any) effect on the quality of your drink, it takes the pressure off of any inexperienced 'baristas' like me. Being new to making my own espressos and cappuccinos, I am thankful for this aspect of the machine more than any other. Yes, it is all about making quality drinks.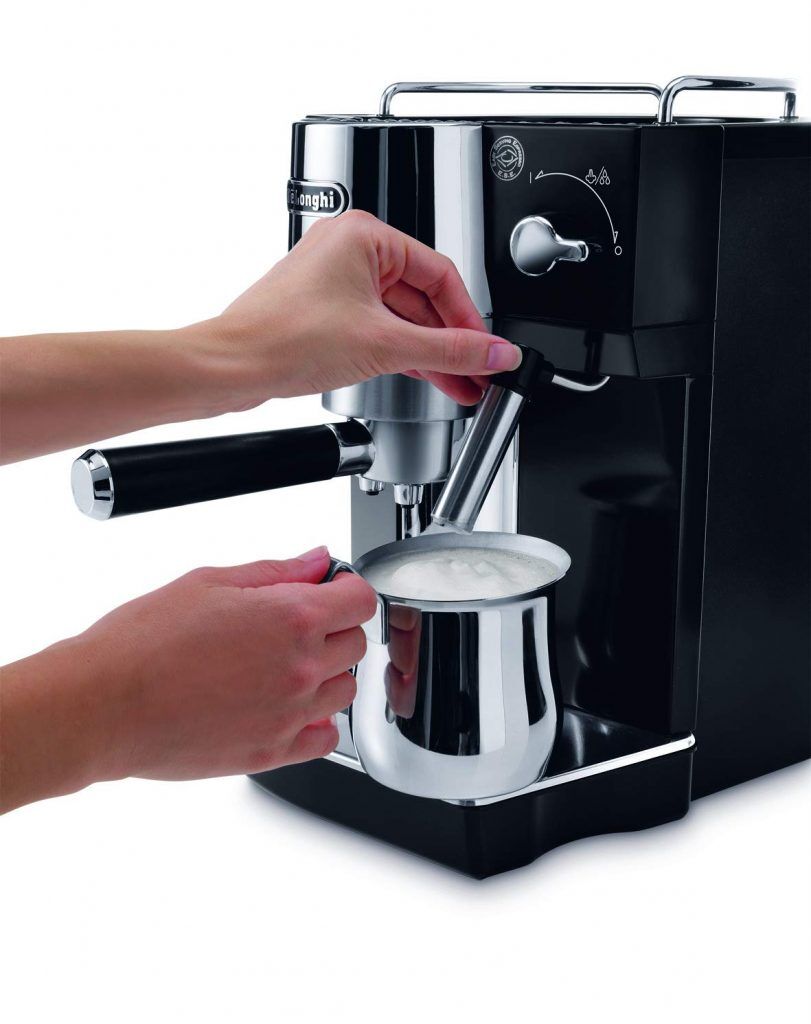 For cappuccino and latte making, this model has a frothing wand included. The style fits the rest of the design and it folds out of the way when you don't need it. While not producing serious microfoam, it does a good job of fluffing and heating your milk. It goes without saying that it is very important to keep this clean if you want it to work. Though I like the look and convenience, it seems that they could have used a different design in order to assure that it was long enough to make it to the bottom of your milk jug but that's really just a nitpick.
The thermoblock heating system a feature of the Delonghi EC820B
One of the best things about the Thermoblock heating system is that the machine gets hot enough for brewing in under a minute and up to steaming temperature just seconds after that. If you know to run hot water out of the steam wand (it will be steam at first), it cools back down for espresso in less than thirty seconds when needing to make extra servings for company. Despite the quick heating prowess, the EC 820 has a better than "A" energy rating. That is one awesome paradox!
It makes delicious cappuccinos!
In addition to the technicalities of making your drinks on the machine, De'longhi engineered a few other nice design features into the machine. The first and most unique one is the front loading water reservoir with empty tank indicator. It holds a full litre and is super convenient to remove and put back into place. Surprisingly, there's even an optional water filter to further increase coffee quality.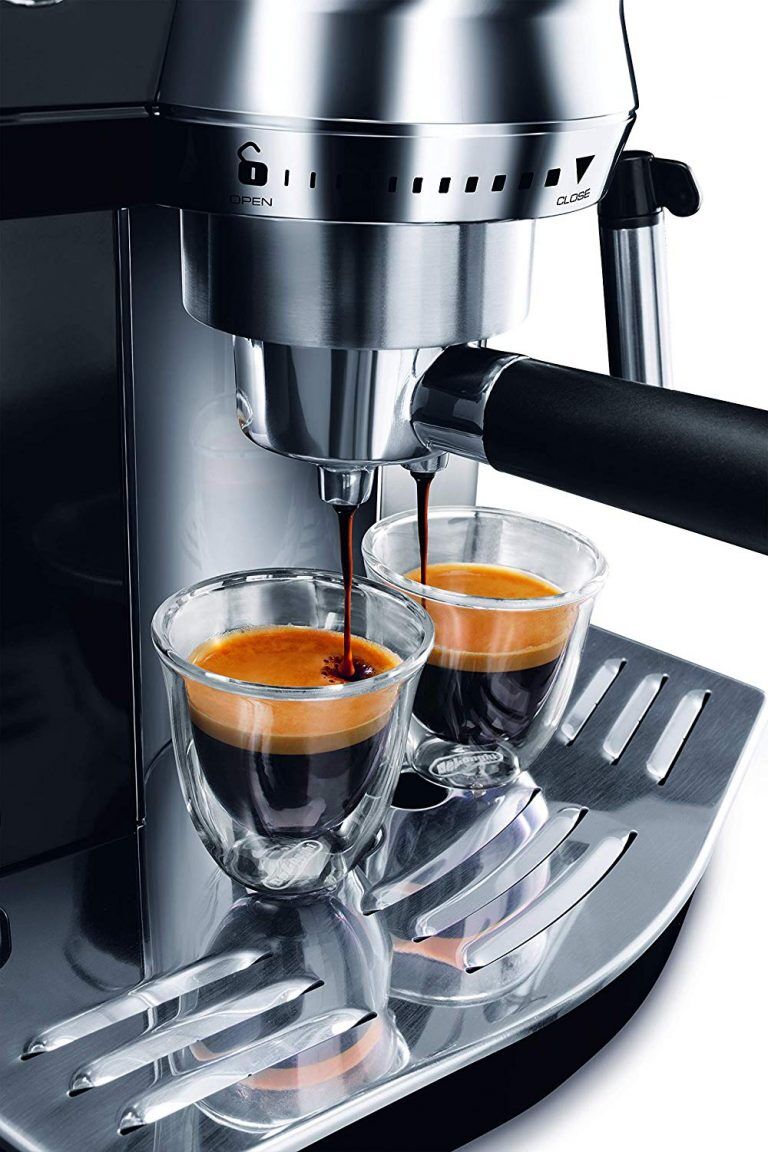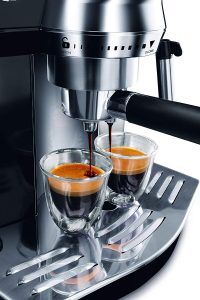 The drip tray on this thing is pretty deep and also has a water level indicator. It is removable and machine washable, taking a lot of the hassle out of clean-up. The last little perk of the 820 is the cup warmer on top of it. It works well at keeping already warm cups at temperature, but don't trust it to get a cold cup hot. I usually make cappuccinos so I have learned to steam my milk first then use the cool down technique to both heat my cup and cool the boiler. Lastly, I make the espresso. This doesn't slow me down in any way and I consistently make delicious cappuccinos.
The only real weaknesses this machine has are in regards to the potential wants and needs of very experienced espresso brewers and drinkers who likely have particular tastes. As mentioned before, the pressurized filters hinder some advanced techniques (the likes of which I have no desire to test out) and a higher grade milk steamer would increase the value for coffee geeks. For me though, the consistent quality I get out of this machine would make it a good buy even if it were a little more expensive.
Some final thoughts on the Delonghi EC820B
The DeLonghi EC820B pump espresso machine produces consistent quality espresso (with crema!) for an excellent price. It is fast, easy to use, and has several nice features to make your brewing life easier. The design is both stylish and practical. Those with refined espresso tastes may want a little more control over their end product but I believe they would be hard pressed to find anything in this price range that will satisfy as well. For the fledgling coffee aficionado, a machine like this is the perfect marriage of price and value.