Last Updated on March 14, 2021 by YourBestCoffeeMachine
Updated: March 13th, 2021
If you find it tiresome to go to your favourite coffee shop to get your daily fix of cappuccino and hate wasting your time in getting in a very long queue for a steaming hot cup of latte or espresso, here a solution to your problem.
Delonghi's EC152 Pump Espresso Coffee Machine is here to aid you in your hot beverage needs. With its 19.5 x 24 x 28.5 cm dimension and its 3 kilogram weight, it can make cappuccinos, lattes and espressos or whatever coffee or milk drink that floats your boat.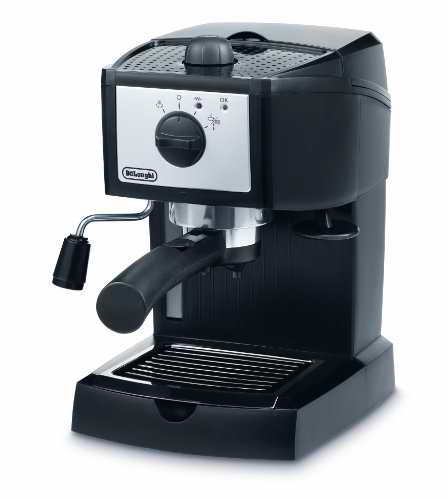 Secret of the Cappuccino System
Its sophisticated design is just one of the things that make it lovable and irresistible. This machine comes in a sleek and smart black colour which fits perfectly the masculinity of a bachelor and the independent and strong personality of a modern day woman. The good thing about its black finish is that it doesn't get stained easily and it is easy to clean. Although its main material is plastic, it is still very durable and very dependable. One thing that is advantageous of this feature is that the machine is far from rust and very easy to clean.
The key features of this coffee machine include the 'cappuccino system' which is the secret to achieving that rich and creamy froth for the perfect cup of cappuccino and the convenient removable drip tray for easy cleaning and disposal in one move. And not only that, it can hold up to a maximum of one litre of water and can take in full sized cappuccinos or two cups of espresso, tops. Other features that make this machine a peach are its high performance 15 pump bar which brings out that delicious taste of your espresso; filter holder and tamper which brings about that soft thick layer of foam or crema; filter storage compartment; adjustable steam emission; and a water boiler that switches from producing espresso into producing steam in just one click. Tell me those qualities didn't impress you and I will know for sure that you're lying.
<< This product is no longer available. For a similar current model (available in the US), you can check this out with price on Amazon.com here. >>
The Delonghi's EC152 Pump Espresso Coffee Machine is very easy and convenient to use. Operation is very simple and you will get your steaming hot fix of caffeine with just a few clicks in just a couple of minutes and you'll get that coffee shop experience right in your home.
Getting your own Delonghi's EC152 Pump Espresso Coffee Machine will surely be worth every penny and bring you joy in preparing hot beverages right at the comfort of your own home. It is very easy to use and makes very delicious barista-style coffee. Make sure that you read the manual thoroughly first before you operate this machine and pre-heat a cup of water before making your latte or cappuccino for best results. Enjoy!