Last Updated on August 20, 2021 by YourBestCoffeeMachine
The Delonghi EC680 Dedica Pump Espresso Machine seem to have been designed to integrate all the good things about this type of coffeemaker but with only a few extra features to maintain it's compact sizing. Being a slimmer version of the conventional bar pump machine from Delonghi, it is almost half the width of the usual pump-driven coffee machine, but still manages to throw in a full-sized water tank at the back and a nice cup warmer on top. So dive in to find 6 ways the Delonghi EC 680 is more refreshing than new socks !
Key Features of DeLonghi EC680 DEDICA Pump Espresso Machine
1. Overall look and weight
The EC680 Dedica's key features include a 15-bar pump pressure, a 1 litre water tank, and weigh 4.2 kilograms. To enumerate few of the possible many good qualities, it can produce a Barista-style espresso, fit for kitchens with a limited space available for a coffee machine as it sports slim dimensions and has variable settings that enable you to create a choice variety of drinks depending on your mood or beverage need.
On the other hand, though, it is not dishwasher safe and has to be cleaned manually (although it's not really that complex of a task), limited only to ground coffee and ESE capsules, and may not be suited for those who want single-operation drink preparation as it requires multi-step preparation.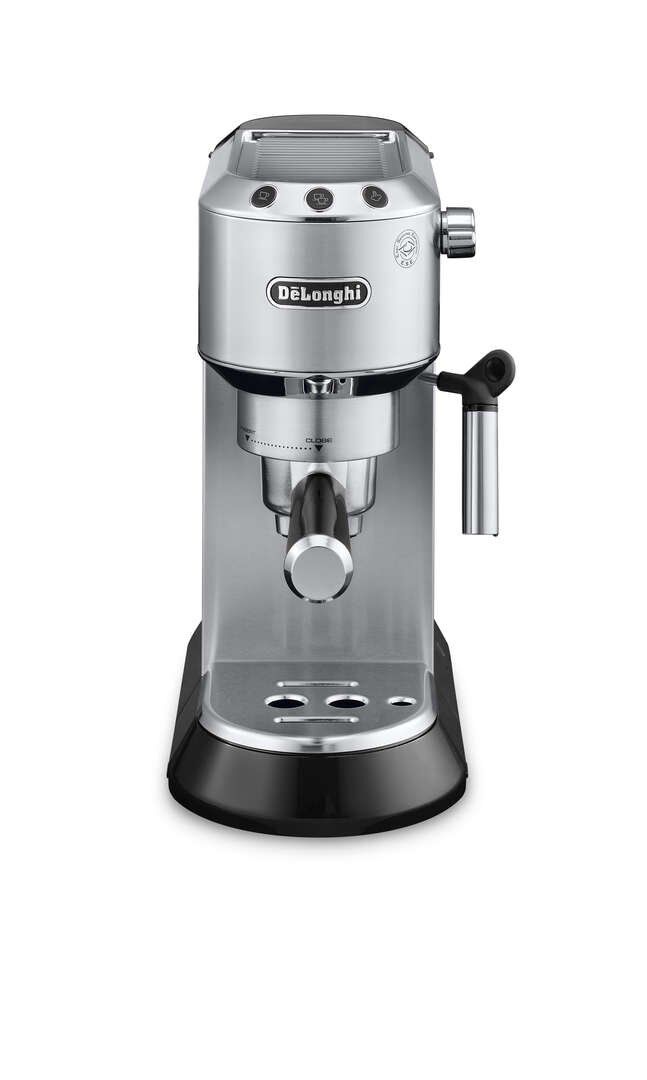 2. Manual cappuccino system
The EC680 is suitable for those who want to make their own usual espresso-based drinks without the usual fuss brought about by traditional machines, as it can provide you with rich, frothy espresso and also features a manual cappuccino system with a patented technology that enables you to make your own thick, yummy foam my blending water, milk and air in the right proportions.
3. Less mess in brewing
Aside from ground coffee, ESE or easy serving espresso capsules can also be used on the Dedica EC680 which paves the way for lesser mess during the brewing and making it a little easier. You can choose yours from three colours – black, red, or stainless steel. It has also taken its own identity away from the usual pump machine style, as it now sports features that are usually found at the front of the machine at the side (the steam wand control, for example.)
4. Sleek and minimalist look
The machine's option buttons which are classically found at the front section (used for choosing single or double espressos and the steam) have been raised to the chrome band around the top, whereas the power button is hidden subtly along the bottom part at the side – promoting a sleek and minimalist look while maintaining professional-style impression.
5. Easy brewing controls
Appearance aside, the real great thing about the Dedica is that it creates the kind of drink that appeals to the coffee aficionado. Via the option controls, you can set it according to your area's water hardness, the temperature of your coffee, and how long you want it to remain on after you use it – and all these before you even begin with the universal brewing controls that can adjust the amount of coffee, how much it's packed down and how short or long you want your espresso. Also, to stop your coffee scorching, there is a boiler safeguard in position, and a removable drip tray that can allow you to use bigger cups for longer drinks.
6. Easy Cleaning
With it's removable water tank and drip tray the Delonghi EC 680 makes for easy cleanup. All of the parts are dishwasher safe. Perhaps these 2 features, plus the small number of parts necessary for brewing is why users rate the ease of cleaning at 4.5 out of 5 – a great score in an areas many other machines really fall down.
How to descale the Delonghi Dedica EC680
The EC680 is one of the simplest machines to descale. There is a setting on the steam dial which runs the automatic cleaning function. All you really need to do is add the descaling liquid. If you want more information have a look at the video below.
The Downsides of DeLonghi EC680 DEDICA Pump Espresso Machine
But with the Dedica's simple design comes a more complex brewing process, just like with most pump-driven coffee machines wherein the making of the coffee is more of a ritualistic affair than a convenience intended to value the product rather than speed. The process begins in selecting either of the following: single or double filter, or the ESE filter, which are each helpfully embossed on the bottom to avert any possible mix-ups. Whatever you choose is then inserted into the holder, filled with ground coffee and packed down until it's even with the separate presser (unless you chose an ESE capsule). The decision is fairly easy to make; by the way – if you choose ground coffee, it will obviously be hard not to spill it, while the capsules are for those who would prefer less mess.
The tricky part is getting the filters in and out of the holder, because the fitting is tight and making sure your fingers are out of the way is a wise thing to do. You then have to insert and twist the filter holder into the machine – which again, calls for a little more effort to do as the fitting is firm. After this, you choose either the one or two shots option switch and coffee dispenses fast and smooth, with only a little amount of drips after it's done. Also, a steam wand located at the side of the coffee machine can be used to foam milk to a firm, creamy consistency great for cappuccino. Although it requires to be cleaned right after you use it, the external cover separates to reveal a rubber spout that enables you to easily find and get rid of any dregs.
However it is indeed an issue for the boiler getting too hot after an extended time of usage, as it prevents you from continually making coffee or using the steam wand, although an easy answer to this problem is by letting it cool down by drawing out the hot water from the steam wand.
Overall Assessment of the Delonghi EC680
The closest thing you can get to having really great café-style coffee is by using a pump machine – the very experience you can have when you use the De'Longhi Dedica. It produces an espresso that is full-bodied and features a thick crema, with a more emphasized aroma – even someone who's not an espresso drinker will notice the solid difference it gives to a simple cup of cappuccino.
The Delonghi EC680 Dedica certainly appeals to those who want their own pump machines but find most models too bulky for their taste. The use of ESE capsules minimizes the usual mess and fuss you usually encounter in making your drink, thus making it more suitable for weekday mornings when you want your coffee fix fast but without having to compromise on the quality, although it's not really dependable for those who want to make drinks a lot as it sometimes becomes a little too hot.