Last Updated on August 15, 2021 by YourBestCoffeeMachine
When it comes to coffee machines or coffee grinders, we always like the DeLonghi products. Found in 1902, the Italy based company is famous for making household appliance. Their coffee bean grinders have earned a huge amount of positive reviews and the price range is reasonable. In this post, we are going to review a couple of the best selling DeLonghi coffee grinder.
If you are new to espresso coffee machine and not sure which machines you should get, read this machine guide first.
If you have already got a coffee machine and now you want go one step forward to grind your own coffee, read my coffee grinder guide here. It teaches you how to pick the perfect grinder.
Now, let's go through these bad boys.
DeLonghi KG89 Burr Coffee Grinder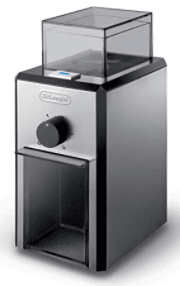 The DeLonghi KG89 Burr Coffee Grinder is a good grinder that does its job satisfyingly. It has a sleek modern design and is made with a durable stainless steel exterior. The stainless steel blade paired with its grinding selection between coarse, medium or fine settings delivers a satisfying result. Not that it only has 3 options – there are actually multiple graduations ranging from coarse to fine allowing you much more control over the grind quality.
Actual purchasers of this burr coffee grinder mention that it produces a consistent grind quality which is important. And, it's relatively compact compared to other similar grinders such as the OXO Brew Conical Burr Coffee Grinder. The Delonghi KG89 is only 5 x 6.3 x 10.1 inches and weighs only 3.75 lbs.
The blade is adjustable and is solidly made from steel which also adds to its satisfactory result when grinding. For end users who are living together with other persons or who enjoy more than one mug of coffee, this DeLonghi burr coffee grinder is a good option.
It produces a good coarse grind perfect for a French press coffee maker. Some users suggest it might not grind the beans fine enough for an espresso machine, although compared to a blade grinder this is by far superior.
An upside is that it is easy to clean and the ground coffee container is large and easily accessible.
The minimum quantity of ground coffee it can make is enough for four cups while the maximum is perfect for 12 cups. Also, its aesthetically pleasing silver and aubergine design is a perfect addition to any kitchen.
Another feature that makes this grinder par up with the other grinders is its built in safety measure. This feature makes sure that the grinder does not operate when the lid is not securely placed. In effect, the makers of the product also put into consideration the well being of its users.
Overall, we think the competitive price of the Delonghi KG89 and the consistent grind output are why it's popular among regular coffee drinkers. The machine is effective and we believe that it is worth the money.
DeLonghi KG49 Coffee Grinder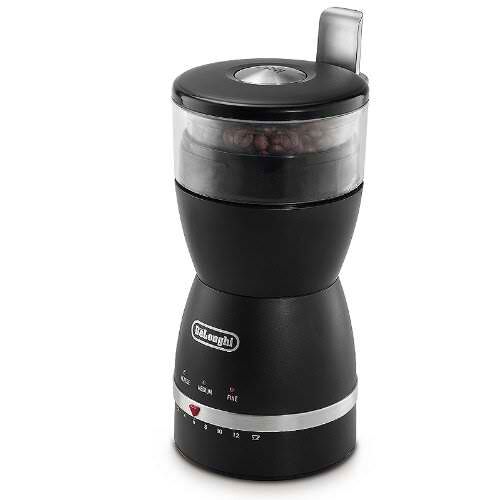 The De'Longhi KG49 Coffee Grinder is a push-to-grin on/off type of machine. The brilliance of this is that at a thrust of your finger, you can have the little machine doing its work. It also has a 12-cup grinding capacity and its grinding blade is made of stainless steel. To top this off, this coffee grinder has an integrated cleaning system coupled with cord storage to keep the electrical wire when not in use. This grinder is very compact and can be moved around without any difficulties. You need not wonder what is going on with your coffee beans as you can watch as it grinds as it has a transparent removable container. For the machines in its price range, the De'Longhi KG49 is very much affordable.
This DeLonghi coffee grinder has a dimension of 11 x 13 x 25 centimetres. Its design is great and I can say that the operation is not complicated at all. It is so compact and takes away too little space. Save time as it can brew in bulk from 4 to 12 cups or 90-gram worth of coffee beans. It grinds quietly in just a few seconds. There is no need for you to worry if you have over-grind your beans. Brewing is consistent all throughout. The LED light indicator will direct you whether it is coarse, medium or fine.
Sometimes, this grinder produces inconsistent results, which is common among coffee blade grinders. Other than this, the coffee grinder serves its purpose brilliantly and is definitely a great addition to your kitchen aides.
DeLonghi KG79 Professional Burr Grinder
Of the many coffee grinders in the market today, DeLonghi KG79 Professional Burr Grinder is definitely one of the best in line. In contrast to blade grinders, burr grinders allow you to get close to the original flavour of the freshly grounded coffee beans. Instead of using blades to chop up the coffee bean, the KG79 uses two grinding wheels to crush the beans, which preserves the coffee aroma and at the same time avoids overheating. The grinder also allows the user to select between 2 to 12 cups and it shuts off once the right amount of beans has been grinded. Its bean container plus lid are transparent so you can just watch closely as the machine works for you.
I am always worried about the noise when I buy a new grinder. The last thing you want to do in a Sunday morning is to make a racket and wake everyone up because of a noisy grinder. Luckily, I found the noise level of this coffee grinder acceptable. It will always have some noise but it is not too bad that would wake everyone up. And it is definitely a lot quieter than the machines used in the high street café.
This machine measures 16 x 13 x 26 centimetres so again it does not take much space. What I like the most about this burr grinder is its ability to finely grind the beans at an affordable price. The problem I usually have with burr grinders is that they cost more than blade grinders, which is why I was very surprised at the KG79 – the price is very attractive! Its fineness selector allows you to choose your desired setting. This compact machine really does have the ability to ground finely or coarsely depending upon the setting. Another noteworthy point is the dual safe system, which automatically shuts off the grinding wheels if either the ground coffee or bean container is removed.
Some have complained about product life lasting for only two years. But this is quite subjective as it is the end-user's duty to carefully examine the machine and use it with proper care. Nevertheless, with the DeLonghi KG79, it is not a difficult task to have an authentic shot of hot espresso in your own kitchen to enjoy for the rest of your day.