Last Updated on August 30, 2022 by YourBestCoffeeMachine
The Breville Dual Boiler BES920 is marketed as a machine with commercial features in a domestic footprint. It comes in either stainless steel or black to fit in with most kitchen decor. But with a price of USD1,500 (or around AUD2,000) it's definitely an investment piece – so is it worth the price tag?
Also Check Out Other Breville Machine Reviews
Breville Duo Temp Pro Espresso Coffee Machine Full Review
Features of a High End Coffee Machine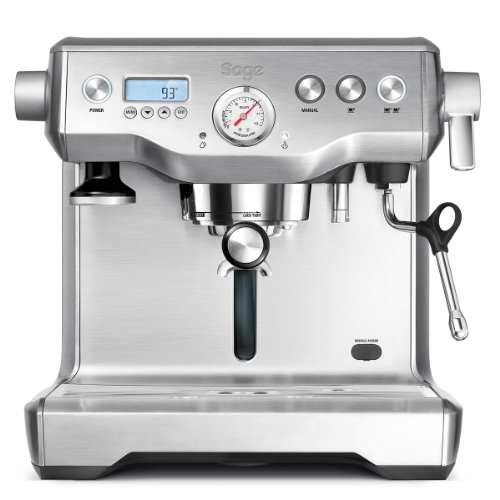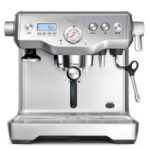 This coffee maker, like its other high end counterparts has a removable water reservoir for easy refilling, a cup warmer that keeps your coffee hot longer and permanent metal filter which saves you from the trouble of constantly replacing paper filters.
It also includes standard features such as an automatic shut off after brewing to prevent fires or burnt out heating elements. It also limits the maximum pressure of the water on the ground coffee to prevent bitterness in the shot pulled. This machine will always guarantee rich flavor in every drink it brews!
Breville BES920 Dual Boiler – Commercial Features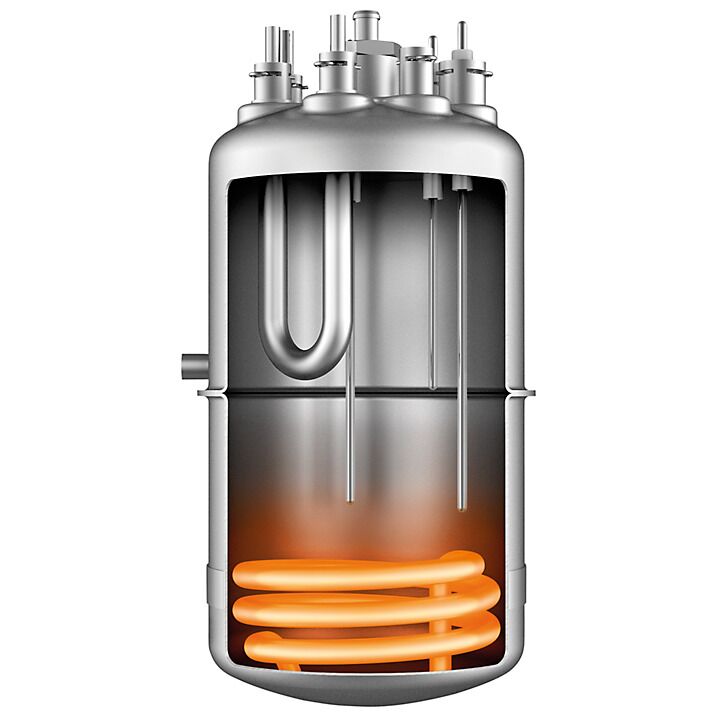 With just these features, this coffee maker is already a winner. But it has more features that will surely amaze you! One of the first things you'll appreciate is the 84 oz (2.5 litre) water reservoir. It does come with a 2 Year Limited Product Warranty which you'd expect for the price.
It is powered by a hefty 1700 Watts and is compatible with an electricity supply between 110 to 120 V. But where the machine really flexes it's commercial design is that it can be considered as "2 in 1" because it has separate boilers for steaming and brewing.
Dual Boiler – No Wait Times
What this means in simple terms, is that you save time by having one boiler to steam milk and another to brew espresso. One of several advantages of such machines with dual-boilers include better temperature control, which enhances flavor extraction from ground beans; moreover, less risk exists for a poor outcome when using dark roasts or blends containing oily components . So if what you are looking for in your next purchase decision is both speediness and taste quality–this product is a good fit.
This commercial type feature which saves you time in producing multiple milk based coffee drinks, is one reason for the higher price tag – you literally get more in this machine than with a regular espresso machine.
Consistent Temperature
This coffee machine's dual boiler feature ensures that the temperature is consistent throughout extraction, resulting in delicious flavor. The double boiler also allows you to control pressure and temperature for perfect espressos.
With adjustable temperature and pressure, thanks to its heated group head controlled by digital temperature control (PID), this machine allows you to make a rich espresso with the perfect taste. Choose between 86-95 degrees Celsius for different roasts of coffee beans in order to get your desired brew. You can also adjust the settings to suit different types of roasts. You'll have a rich, smooth tasting coffee no matter what type of roasted bean you choose.
What's the Perfect Water Brewing Temperature
How do you know what water temperature to use? The Specialty Coffee Association recommends for most coffee roasts, the ideal brewing temperature is between 195°F-205°F. If your preferred coffee bean is roasted darker the ideal temperature is probably closer to 180°F-190°F to get less bitterness.
Breville have put together this 2.34 minute video to show you some of the features of the BES920.
Breville 920 is Packed with Included Accessories
For the price, you'd reasonably expect the machine to come with a few accessories. Breville don't disappoint providing everything you need to engage with your at home barista:
58mm Razor Dosing tool,
58mm Stainless Steel Portafilter,
1 Cup & 2 Cup Single and Dual Wall Filter Baskets,
Integrated Tamper,
16oz Stainless Steel Milk Jug,
Cleaning Kit,
Water Hardness Test Strip,
Water Filter Holder;
Water Filter.
One of the included accessories is the milk jug with an angled spout. This is the milk frothing pitcher and it makes steaming your own milk as easy as pressing a button on this coffee maker. The steam wand will instantly deliver 130-degree Celsius steam into your preferred dairy or non dairy creamer within this stainless steel milk jug allowing for easy pouring of the steamed milk and scooping of your perfectly textured milk froth.
You can also adjust all settings to suit personal tastes for maximum customization in terms of tweaking and fiddling!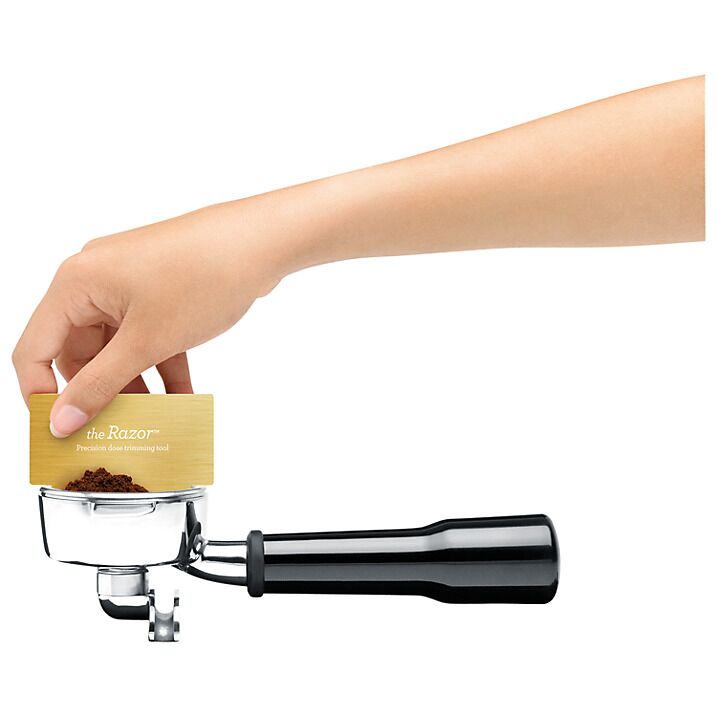 It has a surprisingly small footprint at 14.7 x 14.8 x 14.7 inches (37.3 x 37.5 x 37.3 cm) and weighs 30 pounds (13.6 kg). So it's not the easiest or lightest machine to move about – however if you're investing this much money into a coffee machine, we think you'll already have a great spot picked out!
It has integrated storage for tools and cleaning products. It also has a shot clock to help with timing the espresso extraction. Plus, a handy LED display that allows you to program it to start brewing at a certain time of day!
A Couple of Downfalls of the Breville 920
Although the Breville Dual Boiler Espresso Coffee Machine may seem perfect and amazing, it has a couple of downfalls.
This coffee maker is expensive and not recommended to those who aren't willing or able to spend more than $1,000.
This coffee maker's size might be a turn off for some, because it isn't very space efficient. It can also make moving the machine around challenging, but that doesn't mean you'll always need to find countertop real estate specifically designed for this brewer; just about any spot will do!
Another potential flaw is its somewhat complicated operation. You can't just easily plug and use it after you buy it, although there are a lot of helpful videos out there on how to set it up (see the one below from Breville).
For full details of what is required to operate and maintain your BES920 – you'll want to read through the Breville Dual Boiler Manual.
Plus, the unit needs manual de-scaling (although this is pretty common in many machines). Depending on your water harness, this should be done every 60 – 90 days, so it's not an extra daily chore at least!
Conclusion on the Breville Dual Boiler BES920
Aside from these flaws, this coffee maker still packs a punch in our view. Even though it's a little bit hard to set up and operate, with so many helpful video demonstrations available online by Breville and others, we think you'll find it's operation a cinch after a bit of practice – and the results are well worth it.
The Breville Dual Boiler BES920 really makes a statement with its sleek and minimalist design and silver (or black) finish. Given the incredible features it offers, and the consistent, great tasting espresso and milked coffee drinks it makes, we think it's a really great buy.