Last Updated on March 14, 2021 by YourBestCoffeeMachine
Updated: March 13th, 2021
A great dilemma that I often face whenever I want to buy a coffee maker is this: I want a coffee maker that is durable, long lasting and has great features but is not expensive. Unfortunately, coffee makers that have great quality usually often have prices that exceed my budget. However, I don't want to compromise quality for the sake of wanting to save money. So imagine my great joy when I found this Bosch 1202GB Tassimo coffee maker. It is very much affordable and it's got all the things that I look for in a coffee maker.
If you want to check out other Tassimo coffee maker reviews, you can see them here: Tassimo T65 and T40
My kitchen is small but it fits in fine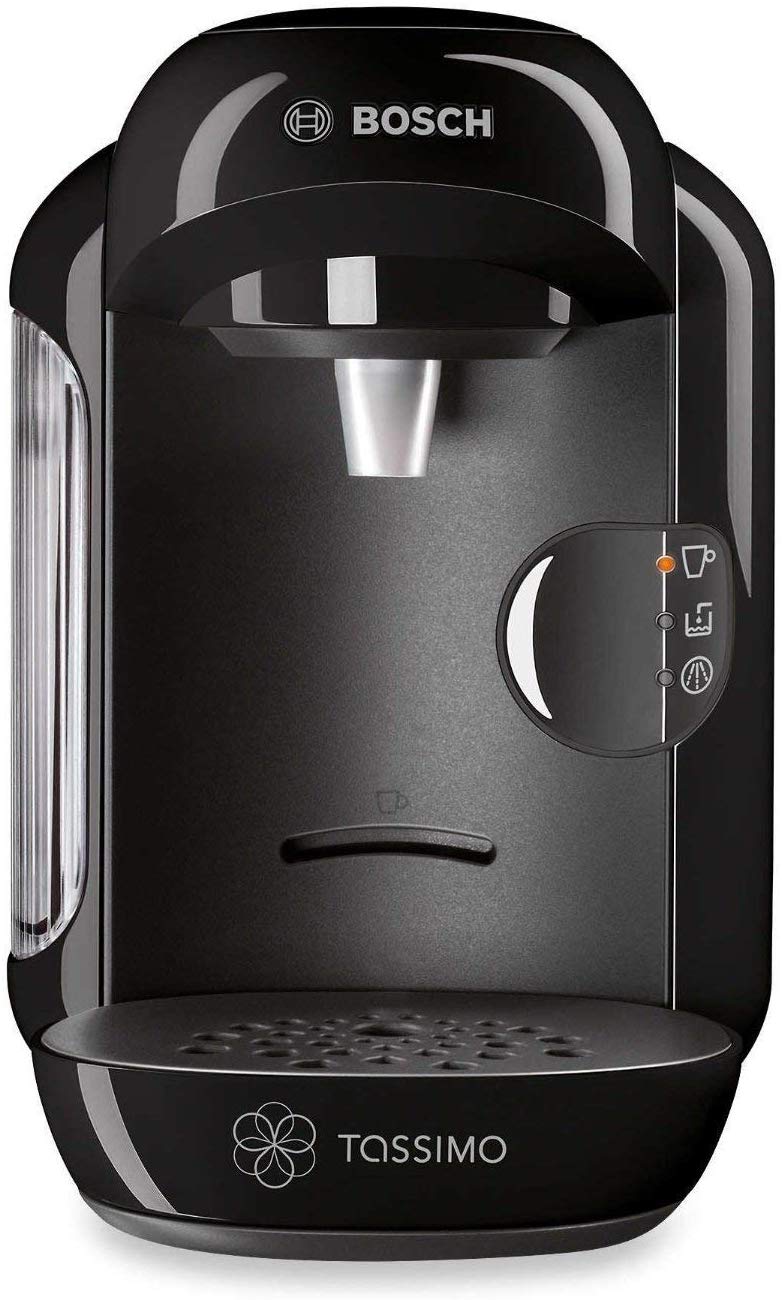 It was designed to be small and compact, making it easy for me to fit this machine into tiny spaces. I didn't have to worry about it crowding my kitchen counter because it really doesn't take too much space. It's easy to store as well because it basically fits into my cupboard whenever I want to keep it for storage. And although it is relatively small compared to other coffee makers, I didn't think that it has the feature that can make me choose from 35 different varieties of drinks, from latte to tea and even hot chocolate. This feature is really helpful for me because I have children who don't like coffee.
It just amazes me that with its price, this coffee maker allows us to enjoy different drinks depending on what mood we're in. It also has a removable 0.7 L tank that is easy to clean and can make up to 3 to 4 drinks. It also has a high tech feel in it because of its Intellibrew system or its barcode technology that scans the drink that you have selected. Once the machine identifies the drink, it will automatically adjust the water that is needed for the drink, as well as the temperature and the brewing time. Another thing that I really love about this coffee maker is its energy efficient flow technology that helps me save energy by only heating the required amount of water needed for a specific drink.
Overall The T12 Has Exceeded My Expectation
The only thing I didn't like about this coffee maker is that it comes with a manual that doesn't have written instructions. It could have been very comprehensible if the pictures also came with explanations. Overall, I'm really amazed with this brilliant product and I would totally encourage anyone to try it out. This machine can really exceed your expectations.
I can say that buying this coffee maker is the best decision I've ever made. It's great and affordable. I recommend that you directly order from their website when buying the discs needed by this machine because they cost lesser. Also, try to look at the manual first and follow the instructions to ensure that your unit will work properly.
<< Check the price of this model on Amazon.com >>
Some Useful Tips For Tassimo T12
This TAS1202GB is a popular coffee machine. And with great machine, comes with great questions. Most of the users have the frequently asked questions below:
What are the major differences between the VIVY and the JOY version of the machine?
In fact, both machines are the same fundamentally. They both make the same drinks using the same mechanism. The main difference is that the vivy is smaller in size.
How does cappuccino work in this machine? Do I need to use 2 pods to make a cappuccino?
Short answer is yes. When you buy the cappuccino T-disks, you will get 2 pods for each serving. You don't need to buy the milk and the coffee separately because they all come in the same pack. To make a cappuccino, you need to first pop in the coffee disk, wait for machine to load the bar-code then you can press the button until there are no coffee coming out. After that you will need to put in the milk disk, wait again and press the button for the hot milk to come out. Finally you get a nice cappuccino.
What is the price difference between Tassimo disk and Dolce Gusto pods?
In general, Dolce Gusto pod costs around $1.08 per serving whereas the Tassimo disk costs around $1.05 per serving for bulk buy. So they are very similar price-wise.