Last Updated on March 14, 2021 by YourBestCoffeeMachine
Updated: March 13th, 2021
The Bosch T40 Coffee maker is another in the series of the Tassimo branded coffee makers. This coffee brewer is a sleek compact Tassimo T-Disk brewer. The always on heat system and the bar code scanner to read the T disk both work together to ensure a fast and perfect hot beverage. If you are looking for other Tassimo coffee maker reviews, you can go check out the Tassimo T65 and TAS1202GB.
When I unboxed this brewer the first thing I noticed was the large water reservoir this allows for making many drinks without worrying about refilling, this is great for entertaining guests. The next thing I noticed is that when inserting a T-disk the mechanism is fairly stiff and feels solid, and should continue to feel this way for years.
It is so simple EVEN my kids can use it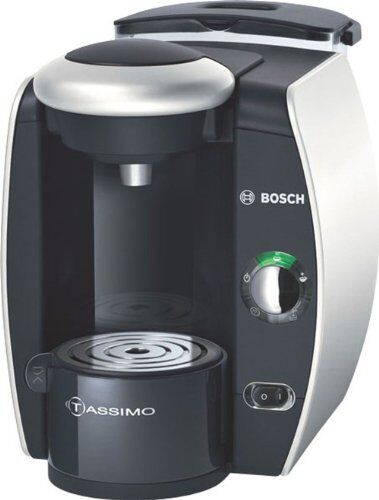 << Check the price of this model on Amazon.co.uk >>
Tassimo has many T-Disks available for purchase, my children especially love the hot chocolate and it is safe and easy enough that they can make their own. My wife and I prefer the Café Crème and this unit does not disappoint. As I became more familiar with the unit I realized that cleaning is important as with any device and there is actually a cleaning disk that you insert and just run a brew cycle and the mechanism is clean, it doesn't get any simpler than that.
Making a drink is really simple, like I said my kids can do it, you select the T-Disk of the flavor you want, place it in the holder and close and latch the mechanisms , select the size of the drink, put the cup in and press the button and shortly after that your drink comes out perfect every time. The Bosch T40 eliminates the need for a coffee maker on the hob, eliminates the waste of brewing a pot and drinking one cup and gives you a perfect, fresh cup on demand.
Every time I am making a beverage or listening to my children make one I stop and wonder why I didn't get the machine sooner. For years I was always brewing coffee and throwing half a pot away, after getting the Bosch T40 the waste is gone, I make a cup at a time when I need it and the best part is the wife and I can have different coffees and there is no argument or compromises as to who gets to pick the coffee today. This unit is as sleek as it is durable and there is the added security of a two year manufacturer's guarantee from Bosch. I hope to never have to use it as I want this unit around for many years to come, making my coffee for me one perfect cup after another.
I highly recommend it
As an owner of the Bosch Tassimo T40 coffee machine I can highly recommend this unit for the reasons that it makes great coffee, tea, hot chocolate and espresso drinks. While the T-Disks seem to cost more in the long run you will save money because you will not waste countless half pots of coffee. In my opinion this unit is perfect for the hot drink lover that requires quality and perfection in every cup. It is definitely one of the best capsule coffee machines I have ever owned. Go check it out on Amazon today!