Last Updated on August 13, 2021 by YourBestCoffeeMachine
Since more and more of us are looking to capsules as a convenient way to make our morning coffee (or whenever), the way that we store our capsules has become increasingly more important. Nobody enjoys having loose capsules strewn across the countertop or rolling around in drawers, so let's take a look at 7 of the best coffee pod holders and carousels that are available to us today.
---
Urban Touch Bamboo Carousel Coffee Pod Holder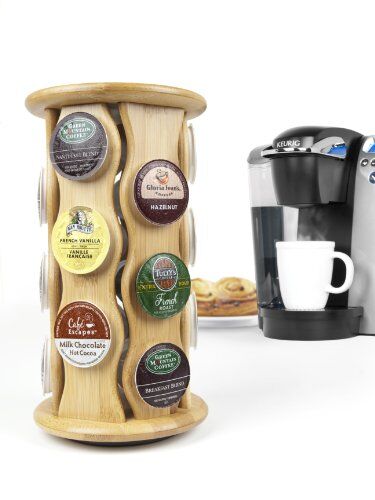 With an all bamboo construction (which is more eco friendly as its more easily renewed) and innovative storage design, this coffee pod holder is one that will certainly catch the eye of any guest that ventures into your kitchen.
At 10.6 inches tall, and with a limited capacity of 16 pods / capsules / k-cups, you would want to choose your favorites wisely. The 5.9-inch diameter and rotating base mean that this storage solution takes up minimal space while delivering maximum efficacy and visual impact. Certainly, it's one for the shoppers looking for a premium product with a larger budget.
---
Blacksmith Family Metal Carousel Coffee Pod Holder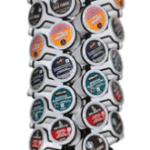 This carousel can hold a whopping 40 capsules or K-cups (2 different variations of the holder) , meaning that you will always have a massive selection to choose from. Ideal if you have a large family, or perhaps suited to an office space, at 13.3 inches tall, there is no denying that this is the capacity king.
With a classic black metal finish and 360-degree rotating base, this is the ideal holder for those who need a lot of coffee on demand. Users have reported its sturdy construction and wobble free design that are a big plus. This coffee capsule holder / K-cup holder is fantastic value for the money.
---
3) Home Treats Rotating Capsule Stand 40 Pod Holder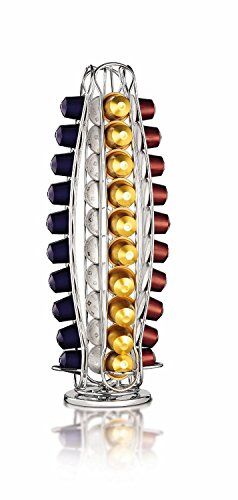 This K-cup holder is designed with style and function in mind. It boasts a very impressive and attractive design with a high chrome finish that is scratch-free and will look fresh for years to come. A modernist take on a capsule holder, the curvy shape is sure to add a touch of sophistication to any kitchen. With a height of 40cm and a width of 14cm, it can accommodate up to 40 pods at any one time. Be warned about getting the base wet, however, as many users have complained that it leaks blue into the counter top surface if you let it get wet and don't dry it.
---
4) Tavola Swiss Coffee Capsule Holder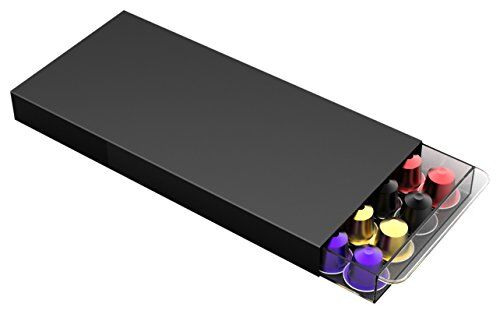 Changing it up from our tower designs in this list comes the first k-cup holder of the drawer variety. Providing a sleeker, more streamlined appearance to your kitchen, the Tavola capsule holder fits directly under you current, compact coffee machine. It comes with no assembly required and is constructed of highly durable materials with a metal casing and durable plastic tray. If you own a larger coffee machine, consider ordering two to ensure that your machine will sit nicely on top of the drawers. With dimensions of 17 x 37 x 4 cm, this holder can store up to 40 capsules in four separate lines.
<< Check the price of this model on Amazon.com >>
---
5) CaféStack Capsule Organizer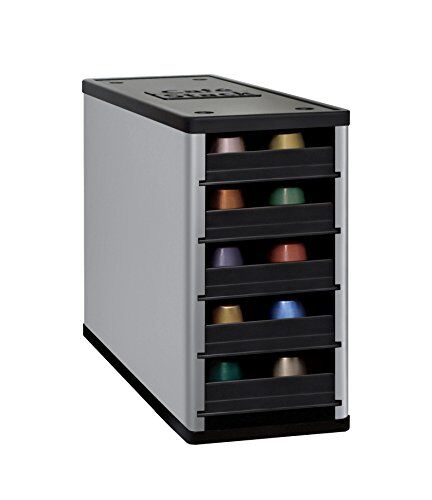 This K-cup holder allows you to store up to 60 coffee capsules in easy to reach drawers that pull out and lower to display the capsules for ease of location. The stackable nature of the holder means that valuable counter top space is used efficiently to store and organize all of your favorite coffee capsules. The only drawback that was encountered by users is that if you load the Nespresso pack of 10 capsules, you are left with 3 extra ones after you've filled in the holder. No biggie really, but if you are averse to having a mixture of capsule flavors in the same tray, then you may become a little frustrated!
<< This product is no longer available. We will be adding more independent reviews of current models soon to the site.>>
---
6) Peak Coffee Coffee Capsule Revolving Holder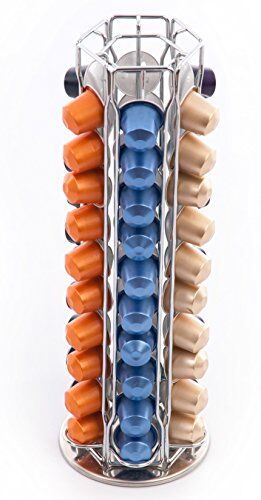 This 60-capacity k-cup holder boasts a 360-degree completely rotatable base and is fitted with a felt anti-scratch pad to prevent your worktop from becoming damaged. It is finished with an attractive chrome coating and really looks the part when you have all of the different colored capsules stored in it. Not only does it help you to organize your coffee capsules, but it also looks great too! At 37.5cm tall and 12.5cm in diameter, this is certainly one of the bigger k-cup holders out there and is ideal for those who want a bit more storage space for their coffee capsules.
<< Check the price of this model on Amazon.co.uk >>
---
7) TOWER Coffee Capsule Pod Holder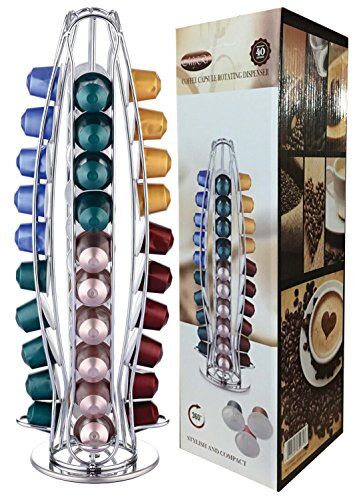 This holder makes the list as a budget option, but by no means does "budget" mean poor quality. This little holder accommodates up to 40 capsules and is a coffee capsule fan favorite. While it is considerably less expensive than some of the other manufacturer's models, it does not sacrifice on quality. With a 360-degree rotating design and metallic chrome coating, this holder is ideal for those who like to have their capsules on display but suffer from a lack of counter top space. One small drawback is that the capsules only slide out at the top, so if your favorite flavor is at the bottom, you must first lift all of the other flavors above it out to get a hold of it!
<< Check the price of this model on Amazon.co.uk >>
---
Final Thoughts
Coffee pods and K-cups are here to stay; they offer convince and reliability that is hard to beat. While the pods can be a little more expensive than ground coffee, money can be saved by purchasing the capsules in bulk. If you buy them in bulk, you will need somewhere to organize and store them. The 7 k-cup holders on this list are all fantastic solutions that will allow you to display your excellent taste in both design and in coffee.