Each year we aim to put together a list of the best coffee makers so that you can spend less time researching, and more time drinking coffee from your home coffee machine. We research current coffee machines being sold online and in stores and choose the ones that we think you'll love.
If you are new to coffee makers, check out our beginner buying guide. It teaches you how to pick the best coffee machines for home.
A Stylish Espresso Coffee Maker
The Swan Retro Espresso Coffee Maker
Looking at our top 10 list again in 2021, sees a new addition to the list – welcome to the Swan Retro Espresso Vintage Coffee Maker ! In the United Kingdom and Australia this comes with a Manual option that seems incredibly easy to use. It also features a classic milk frother for showing off your barista skills and crema art. You will love making an assortment of delightful caffeinated drinks with this gorgeous coffee machine. However, note that the milk-wand is a little shorter, so you should use a shorter jug that isn't too wide.
The stylish coffee machine is super lightweight and more compact than many other coffee machines. It also comes with a detachable 1.2L water reservoir to create as many espressos as you like. You will enjoy the professional spoon and coffee presser with lots of room to customize every coffee. It also features a portafilter, which comes with two spouts for making as much as two espressos simultaneously. It's a superb vintage coffee maker for a radiant start in the morning or when you're craving a mid-morning treat in Aberdeen.
For a similar coffee maker model in the United States, we've found the Swan Retro Semi-Automatic Espresso Coffee which is more powerful (with 20 bars of pressure) and a larger 1.7 litre water tank. For a longer review of these gorgeous pieces of usable kitchen art you could read our article – 7 Vintage Retro Coffee Machines.
Capsule coffee machines
These machines are great for casual coffee drinkers. The main selling of capsule coffee machines or pod coffee makers is the compact design and the easiest coffee making process. It saves you time from researching and trying different types of coffee bean. All you need to do is to pop in their pre-packed coffee capsules into the machine and you will get a cup of coffee in less than a minute. It takes about the same time to brew a coffee as making an instant coffee (the kind of drink made by mixing instant coffee granule with hot water). But the quality is definitely better than what you get from an instant coffee machine.
The downside is of course the limitation of the coffee range. But the good thing is that some companies offer a large variety of drinks and it is not just limited to coffee only. E.g. Tassimo and Nescafe have a wide range of beverage like coffee, chocolate and tea. On the other hand, Nespresso is very focused on coffee only and it has a large range of espresso coffee, featuring different flavours and strength.
Fully Automatic – Nespresso Vertuo Coffee and Espresso Machine Bundle with Milk Frother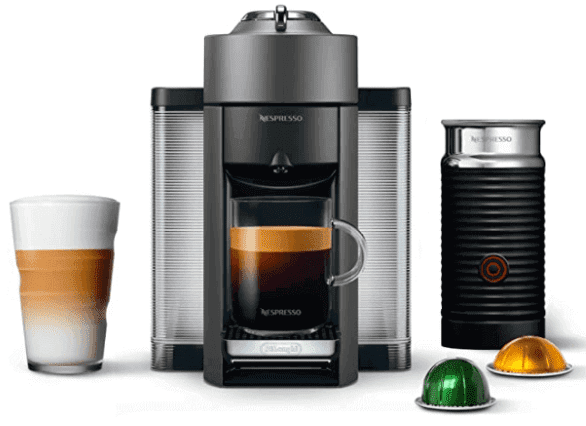 In our opinion, Nespresso has really hit a home run with this capsule coffee machine. It has one of the biggest water tanks of any model – 54 oz or 1.8 litres and is fully automatic making it super simple to make a great coffee at home. It also comes with a great milk frother making it the complete package for an enjoyable at home coffee experience.
One of the big advantages of this machine is that it allows the users to choose your size cup, saving you from the hassle of buying a specific cup that fits the machine. You can use it with 2 different sizes of cups from a full brew Alto to a double espresso.
It has a removable reservoir so it will be easy to clean. This is a great advantage for those who are busy in the house and at work. The machine holds a whopping 17 capsules so you'll also save time emptying that reservoir.
Another wonderful thing about this machine is that it's FULLY AUTOMATIC. The flow of the coffee stops automatically at pre-selected volumes. You can also program the volume and select whether your cup is small or large. And the machine detects which capsule you insert automatically based on its barcode! These advantages make this machine worth every penny in our view.
If you are a little forgetful when it comes to tuning off appliances, it will not be a problem with Nespresso Vertuo Plus because it comes with an auto turn off feature. This feature helps you save electricity and energy and avoid overheating.
This bundle was chosen in part because it comes with an Aeroccino Milk Frother 3. Although it seems the early versions of the frother didn't work well, recent reports all suggest it's a real value add to your purchase!
There are two bad points about this coffee machine. One, it is a bit expensive but its good qualities compensate for its price. Two, some people find that the coffee produced is not as hot as they'd like it to be. This could be a matter of personal preference, however it seems more likely that those issues only happened with the older models. Those who are familiar with Keurig style of brewing where boiling water is forced through the pod, will find the brew produced in this model is a lot cooler.
Nevertheless, based on all of the actual user reviews we have read, we think that buying this machine will be a treat for you and your family.
---
Nespresso Inissia by Krups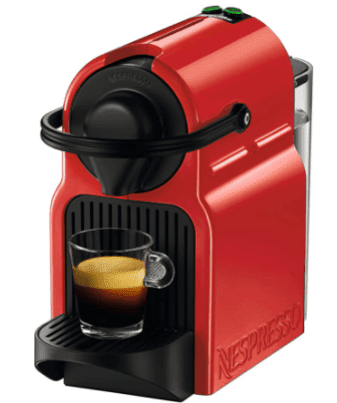 The Krups Inissia home espresso machine, is not only a very affordable machine but also a beautiful machine that comes in a variety of colors from white, to red and orange or even blue. Don't let the size fool you, this machine packs a powerful punch of up to 19 bar pressure. It is fully automatic, programmable, and heats up at a record 25 seconds. This combination of bar pressure, brew extraction time, and temperature guarantee that each shot of espresso will have a decadent crema, full flavor and robust fragrance. With a quick flip or the handle, you'll drop in an espresso capsule and with just the push of a button you'll have a beautiful espresso shot, or select a longer extraction for a lungo drink!
The Krups Nespresso Inissia is a compact easy to use machine that delivers a consistent espresso beverage every time. This machine is so easy to use that you'll wonder why you didn't buy one sooner. With its simple flip to load, and automatic capsule ejection brewing, and cleaning both are quick and easy. Making the perfect espresso drink is what every espresso machine buyer looks for; this affordable machine is the one for the beginner and the pro alike.
The down side to this machine is that it is quite a bit louder than most other espresso machines. In addition to this the more experienced espresso drinker will miss the ability to froth milk for latte or cappuccino drinks with a single machine. Milk steamers are however available separately.
---
Bosch Tassimo Coffee Machine Hot Drinks Machine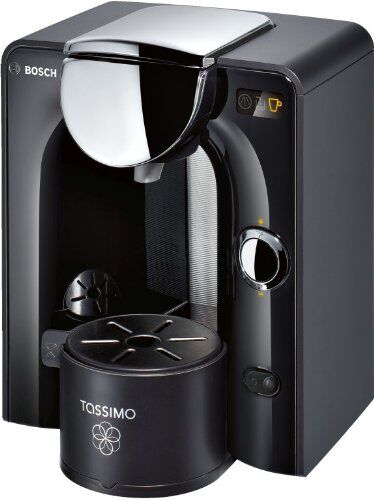 One of the features that is lovable about this machine is that it makes your coffee-making experience as easy as possible. From setting up the machine to making your first cup of coffee, everything is hassle free. You will have your caffeine fix in just one touch of a button and it automatically adjusts the temperature of the water and the brewing time.
It is also advantageous to know that it only takes a couple of seconds to insert or retrieve the drink pod to and from the machine. It also offers a wide variety of delicious hot beverages, from brewed coffee to hot chocolate. It is also dishwasher-safe so there's no hassle in cleaning it. Its low energy consumption feature is another definite bonus.
The Tassimo Intelligent Barcode Reader feature is so amazing! This scans the barcode that's encrypted in the coffee pod and it automatically gives the machine instructions about the temperature, the brewing time and the amount of water to be used. Wait, there's more! It has an LED user interface that lets you know the status of the machine. It also has an automatic switch off function which is very helpful if you're a little bit forgetful. Wicked!
Of course, the Bosch Tassimo Coffee Machine is a good pod coffee machine, although such a peach, has some disadvantages too. The pods that it uses are a little bit pricey, as well as the machine itself. Its automatic feature also hinders the tailoring of the strength of the coffee that you'd like to have.
---
Starbucks Verismo Coffee Machine 600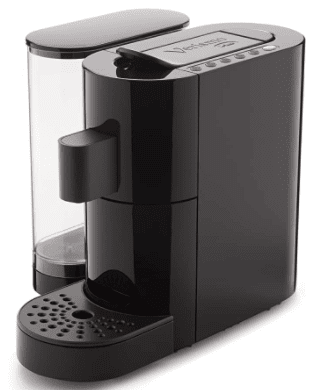 The Starbucks Verismo allows you to personalize your drink through its programmable memory. This machine also has an automatic brewing feature and you don't have to wait a long time for your coffee because it brews coffee in just 30 seconds. You won't have to worry about using different sizes of coffee cups either because this machine has an adjustable drip tray which means you can even use your big mug. It also serves you a great deal of energy because it switches to low-power mode if not used for 15 minutes and automatically turns off after 30 minutes. It's really easy to use and delivers your coffee in just one touch of a button. Easy cleaning is also possible with its dedicated rinse button.
Aside from looking chic and classy, the Starbucks Verismo has an easy 5 button interface which will bring you different varieties of hot drinks ranging from brewed coffee, tea, espresso, milk or just hot water. Your coffee is guaranteed to taste heavenly and flavourful with its Swiss-engineered high pressure technology. It also has a built-in container where the used pods automatically drop into so you can keep a clean and tidy kitchen. Truly amazing, isn't it?
One disadvantage of this Starbucks coffee machine is that it exclusively uses Verismo pods so you can't buy pods which are less expensive. Also, it's relatively expensive compared to traditional coffee makers because this machine uses pods. However, this machine is still a joy to use and is very convenient. Ah, nearly forgot to say, when you buy this Starbucks machine it also comes with a free coffee welcome kit which contains 6 coffee pods and 6 milk pods. Bonus!
---
Lavazza A Modo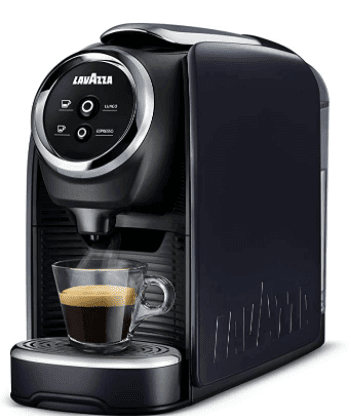 The Lavazza Blue Coffee machine (known in some markets as the A Modo Mie Jolie) incorporates the Lavazza capsule system for a consistent cup of espresso each time you brew. This pod technology provides a perfect crema, with the simple touch of a button. No need to worry about getting the right grind or coffee portion, the Lavazza Blue Coffee machine has a 12 capsule capacity to ensure perfection.
The built in steaming wand creates a lovely froth for your cappuccino and latte drinks. The removable water tank is large enough to get the job done without having to refill after each brew. We love the fact that this machine has an adjustable height feature for you tallest latte cups as well as your short shot glasses. This machine is quite adaptable and comes with a hot water function for those times when your guests are not espresso drinkers and would prefer to have tea or hot chocolate.
The Lavazza Blue Coffee is easy to use, a simple touch of the button and the perfect cup of espresso is brewed in front of your eyes. The use of Lavazza pods for each cup makes it easy to guarantee that each cup is just as good as the last. The 15 bra pressure for each cup creates a perfect fragrant and flavorful crema. The best part of this machine is the ability to make alternative beverages for your guests!
The style of the Lavazza Blue Coffee comes in a deep blue in the US (and other colors in other countries) and it functions very well. The steaming wand is a bit short and is not as efficient at frothing as we would like to see.
---
Manual espresso machines
Manual espresso machines are perfect for intermediate coffee users. If you like the feeling of being a barista at home, this is perfect for you. They are slightly bigger than pod coffee machines but not as big as bean-to-cup makers. They don't take up much space on your kitchen top and they can make a great coffee machine for home. These machines require ground coffee or E.S.E pod. Ground coffee is basically the grind coffee bean. You can grind your own coffee bean or you can just buy a pack of ground coffee from any supermarket. Then you will need to fill the ground coffee into the filter and you can start brewing.
It looks simple but you will need to spend some time to get the skill right. If you want to make latte or cappuccino, you can also get a coffee machine with milk frother. Espresso machines can give you best quality espresso with a nice layer of crèma which is something a coffee pod machine can't provide.
Both espresso machines and capsules machine are single-served, which means they can only produce one cup of coffee at a time. Alternatively, a filter coffee machine can serve up to 12 cups at a time. In general, one cup coffee machine makes coffee with higher quality but cost more as well.
De' Longhi Scultura Coffee Machine
When you buy this machine, you don't have to worry about how much space it occupies because it takes less space than other coffee machines. It can also be operated easily because it only has a few controls and has only 3 simple button operations. It has a milk frother that really works well and has a hot water function if you want to take a break from drinking coffee and want to switch to tea. It also embodies flexibility since it can brew coffee from grinds or from ESE pods. You certainly won't get haggard in maintaining the cleanliness of the unit because the dip tray is easy to slide out and empty plus the water tank is removable, making the unit easy to clean.
Unlike plain-looking coffee makers, this machine has a retro vibe that you'll surely love. It only weighs 4.4 kilograms and has a water tank that has a 1.4 litre capacity. It has a built-in tamper and an incorporated crema device. It is powered by a 15 bar pump pressure and has a water boiler that switches between espresso to steam production easily. The green indicator lights lets you know if it's time to dispense the machine.
Since this coffee machine is quite small, it can only accommodate mugs and containers up to 77 mm high. That means regular mugs cannot be slid right under the coffee deliverer. You really have to invest in espresso cups or smaller cups. However these don't undermine the quality of the machine. Check out other best selling DeLonghi espresso coffee machine reviews here.
---
De'Longhi ECC220 Motivo
The De'Longhi Motivo Espresso machine is stylishly designed and available in multiple colors such as red, white, black, and yellow. We love this machine for its ability to brew multiple cups of espresso at the same time. Even more than that though the removable reservoir makes it incredibly easy to keep the machine full of water for your brewing needs, and the steaming arm is essential for making latte and cappuccino drinks as well.
This machine features programmable settings, a built in crema device and tamper for quick brewing of the perfect espresso drink. In addition this machine can be used with whichever you prefer loose grounds or espresso pods. This lovely machine is light weight, and fits into most any kitchen. The programmable settings allow you to make the espresso that you want rather than just a cookie cutter shot, and the patented thermoblock boiler ensures the perfect temperature every time.
The Motivo Espresso machine is extremely versatile, easy to use and stylish. The built in crema device ensures that this machine will produce the perfect shot of espresso every time you use it. The variable strength settings provide the user with the unique ability to make each drink the way you want. While delivering two shots at once for multiple beverages, or larger size drinks depending on your needs this machine always delivers.
On the down side this machine has a smaller water tank than some of the other machines which means you will be refilling the machine more often than you might like. There is no cup warming feature and this is can be overcome by warming the cups with hot water yourself.
---
Philips Saeco Poemia
Since this espresso coffee maker is relatively cheaper, it is a good choice if you're a little tight on the budget but really wants to own a coffee maker. But the Saeco Poemia doesn't look cheap at all. It's also great if this is your first time to buy a coffee maker. It is not so huge and massive so it does not take a lot of space in the kitchen. Its parts are also compact so if you don't need them, they can be neatly tucked away inside the machine. It is also very easy to use because in just one click of the switch, the boiler automatically heats up to the right temperature. Cleaning it is also not a hassle because the water tank is removable. Cheap but has nice quality. It is brilliant, right?
Philips gives you the power to choose from the three available colours for this machine. You can choose from red, black and silver, whichever colour suits your taste and personality. Its water tank has a 1 litre water capacity which can make roughly 2 or 3 cups, depending on the size and height of your cups. This machine is also powered by a 15 bar pressure pump. It allows, milk frothing and has a cup warmer. Add to that its durability.
This machine has a pressurised filter which helps making crema. You can definitely see a nice layer of crema on the espresso. If you are a coffee pro, you might not like the crema made in this way. But for ordinary coffee drinkers like you and me, it shouldn't make a big difference.
One drawback of this machine is that it doesn't allow users to set the volume of the discharge of coffee so it sometimes overflows. The steam wand also hinders the use of larger milk frothing pitchers. Plus, the on switch is placed in the back but it's not much of a hassle.
---
Fully Automatic Espresso Machine
These machines are also called bean to cup coffee machines. They are basically a coffee maker with an integrated grinder. Instead of using ground coffee, you can put the coffee bean straight into the machine. With a few buttons, it will grind the beans for you and automatically turn them into a cup of espresso. These grind and brew coffee makers are not cheap however they can do everything for you.
Panasonic NC-ZA1
Easy – that is what coffee-making experience with Panasonic is as they launch their amazing fully-automatic bean-to-cup machine. The Panasonic NC-ZA1 is massive but easy to set up. It is also very space-efficient because the parts – the water tank, the disposable container and the brewing unit, are all full-front loaded. This means that these parts can be retracted from the front which makes them easy to clean and enables the unit to fit right into kitchen corners and against walls. It is also hassle-free to use because it is fully operated from the front. You don't have to reach something in the back to operate the unit. It also has a simple interface that enables the user to make coffee in just one touch of a finger.
You'll surely feel high-tech when you use this machine because it's fully automatic and has a touchscreen display. It does everything for you – it automatically grinds the beans and brews your espresso, all you need to do is to put the beans in and press a few buttons. Making frothing can also be done automatically – you just need to put the froth wand into a jug full of milk. It even has a memory that can store as many as 4 combination of settings to make your coffee personalized. Not only that, it has a built-in LED lighting that's both helpful in the dark and stylish. You also don't have to worry about using different cup sizes because of its flexible delivery height adjustment feature. Amazing!
This is quite a new product so bad points are still scarce. However, there were reports about faulty color on the touchscreen display and about the coffee waste container not staying in place after a long time of usage. As said, since this product is still new, surely, Philip's R&D will soon make improvements.
---
Krups Espressaria
The Espresseria by Krups is a beautiful metal front machine which provides bean to cup espresso brewing. This super automatic espresso machine is designed with the true espresso drinker in mind, with a one touch menu that allows you to select the perfect temperature, amount of coffee, and water for each beverage. Not only is brewing a breeze but cleanup is effortless, after each brewing cycle any excess water will dispense automatically through the brewer. The Espressaria features Krups patented thermoblock heating system to ensure that each cup is perfectly heated. This machine is also equipped with a steam wand as well as an auto frother for more drink options. Add to this the cup warming feature and the ability to program a schedule to brew and you have a near perfect brewer!
The Espressaria is a stylish machine that provides the user with a quick and easy experience. The bean to coffee feature of this super automatic machine ensures a perfect beverage every time. The beans are ground on demand for each brew, the cup warmer ensures that each cup of espresso you brew will stay hot long enough to enjoy it, and the programmable feature ensure that you have your cup ready when you want it!
The milk frother on this machine is less than stellar, it is sufficient to steam the milk, but the frothing feature does appear to take quite a bit longer than it should. The self-cleaning feature is nice but can be over dispense and release more water than the drip tray can hold and should be watched to prevent overflow.