Last Updated on August 22, 2021 by YourBestCoffeeMachine
What to look for in a handheld milk frother
The best handheld milk frother should be very easy to operate, use and clean. It should have a great design and stainless steel finishing making it very durable. If you enjoy the sweet, creamy taste of frothed milk in cappuccino, lattes and hot chocolate beverages prepared at local coffee or tea houses, then getting your very own handheld frother is one of the best choices to make to have frothed milk at your convenience. Here we look at 5 of the best handheld milk frothers including the latest offerings from the very popular Zulay and Powerlix brands.
Handheld frothers will froth all types of milk whether it is steamed of cold, they are ideal for frothing small batches of milk and convenient for small households with small kitchens. They are operated by a single button, press once to turn off or on. Some models are equipped with a dual speed motor that makes the task of frothing milk and mixing powdered beverages easier and with better results.
Disadvantages of a handheld milk frother
The three minor disadvantages of the handheld frothers are that they are battery operated, they are NOT dishwasher safe and they will not steam milk for latte beverages.
Originally these types of frothers used two AA or AAA batteries that needed changing frequently, depending on how often you use the device. Now there are also charge with USB milk frothers, rechargeable frothers and portable frothers designed for travel.
Here is our updated list of the five of the best handheld milk frothers based on customer's feedback and reviews (independently researched and analysed by us) that will make your purchase much easier.
---
Zulay High Powered USB Rechargeable Handheld Milk Frother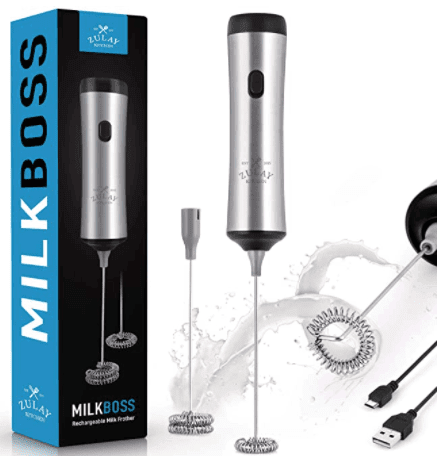 Pros of the Zulay High Powered USB Rechargeable Milk Frother
If you've been in the market for a handheld milk frother over the last few years, you will be familiar with the Zulay brand and their market leading Lifetime Guarantee. This newer model of their incredibly popular milk frother is USB rechargeable and comes with 2 whisk heads – a single and double. Why do you need 2 whisks?!
Well it's simple – the double coil whisk creates thicker foam with less air. This makes it the ideal companion for the latte artiste. The single coil mixes quickly and creates lighter foam for making matcha tea, keto bullet proof coffee or whisking eggs for a fluffy omelet.
Cons of Zulay Rechargeable Milk Frother
One of the only complaints about the frother is that it doesn't work that well in hot milk and can be too powerful – seems there have been a few milky messes made. Users recommended that you froth your milk in a jug rather than trying to do it in your coffee cup directly.
Digging a little deeper into the reviews it seems the USB rechargeable version might not be as powerful as the battery powered Zulay the market loves.
Of the critical reviews we read, most seemed to relate to a lack of power of the USB rechargeable model and of failures soon after purchase. Now with a Lifetime Guarantee, there's no financial risk to you but it would be a pain to have to return it so soon after purchase. Because of this issue, we've linked to both the original battery operated frother AND the USB rechargeable one below.
---
Powerlix Milk Pro Battery Operated Handheld Milk Frother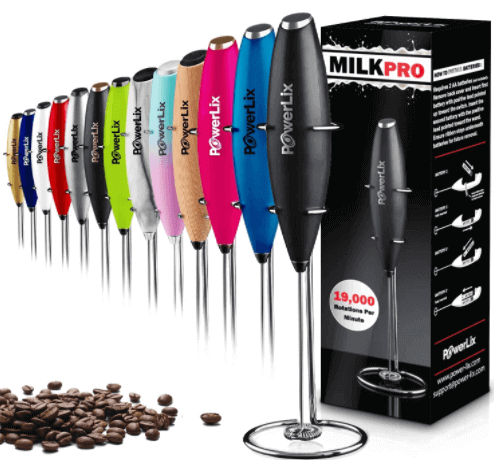 Powerlix Milk Pro Handheld Milk Frother – Pros
This is one of the most powerful battery operated handheld frothers on the market with 19,000 rpm. This power delivers foamy milk in 15 – 20 seconds for most users.
The vast majority of users report loving this handheld frother. It worked well with non dairy milk alternatives and frothed them in about 30 seconds. It reportedly works with rechargeable batteries as well as disposable batteries and so for our money is comparable to any other rechargeable frother.
Cons of the Powerlix Milk Pro
Again, the only real negatives to this frother are its longevity with the bulk of complaints being that it stops working. Presumably this is why Powerlix now comes with a Lifetime Warranty. Most reports suggest that there is no issue getting a replacement and for that reason, like the Zulay, we would not be put off by reports of malfunction.
If you're looking to reduce your waste, and want to use rechargeable batteries then the cost of the frother plus those batteries might be getting pretty close to an electric milk frother. An electric frother will take up more room, but from a financial perspective it might be just as attractive.
---
Aerolatte Handheld Milk Frother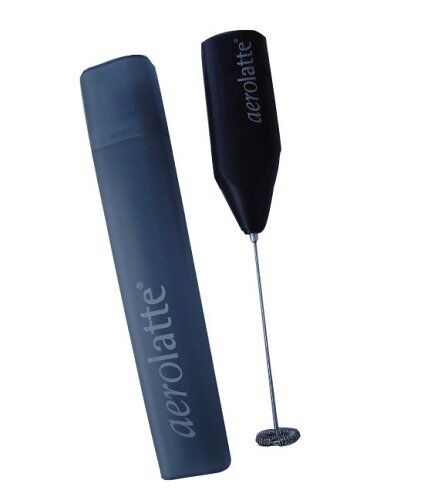 Aerolatte Handheld Milk Frother – Pros
The Aerolatte Handheld Milk Frother is designed to stand the test of time. The frother is single button operated and features a very powerful single speed motor, stainless steel whisk and stem. This makes it easy for you to get from normal cold milk or steamed milk to delicious frothed milk in 20 – 30 seconds.
The Aerolatte will also whisk your milkshakes, gravy, whipped cream and powdered chocolate beverages, thanks to its powerful motor. The frother comes with a sturdy travel case that offers extra protection for the device when you are on the go or storing it inside the kitchen after using. The body of the frother is made from heavy duty plastic with five different colors that are available to choose from.
Aerolatte Handheld Milk Frother – Cons
The most frequent complaint about the frother is the short life of the batteries due to the power the motor. When the batteries are low the frother does not operate and froth milk properly.
It is strongly recommended that you get strong, durable batteries and not any random no name batteries. You might want to do a little research or contact an Aerolatte customer service representative for some recommendations.
---
Kuissential SlickFroth 2.0 Handheld Milk Frother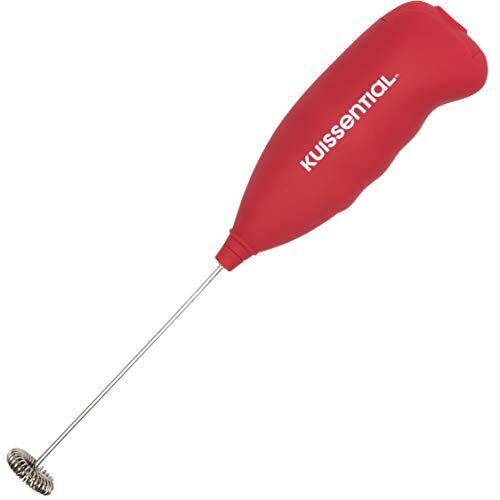 Pros of the Kuissential SlickFroth 2.0
This frother creates excellent frothed milk for you in under 30 seconds. The frother is covered by a two year manufacturer warranty and comes in a great value pack of 2. There is also a single pack option but for the extra couple of dollars, we'd buy the twin pack!
The batteries are easily replaced by sliding off the section where the power button is to gain easy access to them. The body of the Kuissential is made from plastic with rubber grip, the whisk and stem are made from stainless steel.
The motor inside the frother has a very strong torque and reaches its top speed under 2 seconds. There is only one speed and so if you like to keep things simple, this could be the pick for you. It also makes the Kuissential the perfect choice for frothing heavier milk products, for example, rice milk and soy milk.
Cons – not many
There are a handful of complaints about the sturdiness of the power button, although from all the reviews we've read these seem to be fairly isolated incidents. We wouldn't be put off this purchase because of them.
---
Bonjour Café Latte Handheld Milk Frother

Pros of Bonjour Café Latte Handheld Milk Frother
This frother will create creamy milk froth for your coffee and hot chocolate beverages in approximately 25 seconds. It is also capable of mixing sauces, whipping cream, mixing salad dressings and scrambling eggs.
The Café Latte handheld is relatively easy to handle, operate and clean. Its stem and whisk is made from stainless steel and the handle is brushed stainless steel finished. It comes with a chrome stand that makes for easy storage on the counter or inside the cupboard of your kitchen.
Cons – takes too many batteries
The cap that holds the batteries inside the frother will at times come loose, allowing the batteries to fall out the frother. The frother is powered by four (4) AA batteries which is twice as many as the Kuissential.
---
What is the best handheld milk frother ? The Zulay Milk Frother (battery operated)
Although we wanted to love the Zulay rechargeable milk frother, the number of complaints about the failing USB charger leads us toward the Zulay Milk Frother with battery power as the best handheld milk frother for our money.
Whichever frother you choose, it's easier than ever now to enjoy frothed milk in cappuccino, lattes and hot chocolate at home. As a final couple of points, we do note that a very important step to take when frothing steamed milk is to place the whisk in the milk before turning on the frother.
Turning on the frother before placing the whisk in the milk can cause the steamed milk to splash out of the jug, this can be dangerous to the user. There are other options and ways to prepare frothed milk, purchasing a handheld frother will prove beneficial when it comes to travelling and storing the frother.